The second highest run scorer in Test cricket, the 37-year-old said on the eve of his 168th match it would be his last.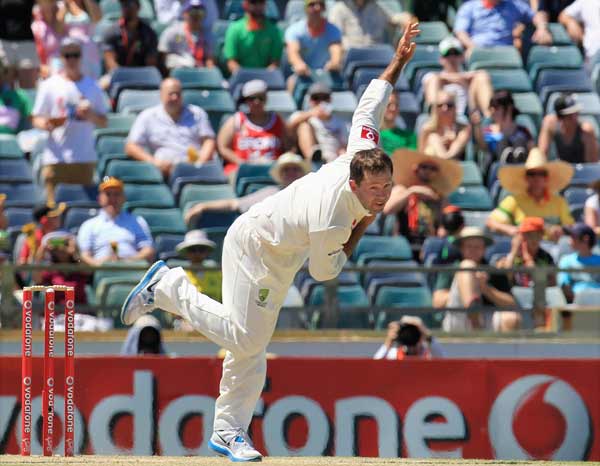 Ricky Ponting's Test career came to close with an anti-climactic innings of eight runs to leave Australia, chasing an improbable 632 for victory, struggling at 110 for three at lunch on the fourth day of the third test against South Africa on Monday.
The loss of David Warner for 29 and Shane Watson for 25 brought the former
Australia
captain to the crease at 11.46am local time (0346 GMT) to join opener Ed Cowan, who will resume after the break on 37 with Michael Clarke (8). Welcomed onto the field for his 287th Test innings by a guard of honour of applauding South African players, Ponting shook hands with Proteas captain Graeme Smith before tamping down the wicket with his bat.
The 37-year-old offered defensive shots and left one of the first five balls he faced, before pouncing on the sixth with a vintage pull shot to propel the ball to the square leg boundary and get off the mark. A driven four courtesy of a misfield from Morne Morkel at mid-on was his only other contribution to the Australian score, closing his test tally on 13,378 runs at an average of 51.85.
The end came just before the break when he tried to cut the first delivery he faced from South African spinner Robin Peterson but only managed to get a thick edge onto the ball which ended up in the safe hands of Jacques Kallis at slip. Ponting did not hang a round at the crease but was mobbed by South African players wanting to shake his hand as he walked from the field. He looked back only once, doffing his helmet and raised both arms to bask for one last time in the applause of the crowd of his compatriots.
South Africa had begun well in their quest to bring a swift end to the match, secure successive series triumphs in Australia and ensure they would retain top spot in the ICC rankings. Warner lasted just two deliveries in the bright morning sunshine before he edged the ball to Smith in the slips off the bowling of Vernon Philander. Watson and Cowan weathered the early storm well after that before Morkel came on and re-energised the South African attack.
The big quick got his reward for some penetrating bowling when, having been softened up by some short bowling, Watson pushed cautiously at a delivery outside off and edged the ball to Smith.
Ponting Factbox
A rundown of former Australia captain Ricky Ponting's international career after his final innings in the third Test match against South Africa on Monday.
Born: December 19, 1974 at Launceton, Tasmania In
Test Record:
Matches: 168 (won 48 out of 77 tests as captain)
Debut: Against Sri Lanka at Perth on December 8, 1995
Total runs: 13378 (Second highest scorer in the world behind India's Sachin Tendulkar's 15562)
Centuries: 41 (Third highest number of centuries behind Tendulkar (51) and South Africa's Jacques Kallis (44).
Double centuries: 6
Batting average: 51.85
Highest score: 257
Wickets: 5
Catches: 196
ODI Record:

Matches: 375 (won 165 of 230 as captain)
Debut: Against South Africa at Wellington on Feb. 15, 1995
Total runs in ODIs: 13,704 (Second highest scorer behind Sachin Tendulkar's 18426)
Centuries: 30 (Second highest number of centuries behind Tendulkar's 49)
Batting average: 42.03
Highest score: 164
Wickets: 3
Won three 50-over World Cups as a player: 1999, 2003, 2007
Led Australia in the last two World Cup victories.
(Compiled by Sudipto Ganguly)