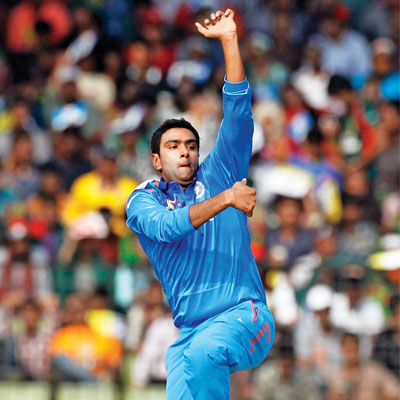 Off-spinner Ravichandran Ashwin has possibly started thinking like a poker player — if one can draw the connection between long sleeves and aces.
Even as Amit Mishra and Ravindra Jadeja continue to torment batsmen, Ashwin has been captain MS Dhoni's go to man as far as bowling with the new ball, playing with the mind of the batsman, bowling at death or stopping the runs are concerned. And he has not disappointed the skipper.
On Friday, Ashwin delivered another match-winning performance — an economical two for 15 in four overs against Bangladesh that helped India through to the semis. The Tamil Nadu offie was also rewarded with the man of the match award for his efforts.
However, during the Asia Cup last month, Ashwin struggled with form and came up with a Sunil Narine-like action. It was the latest of many things that the spinner experimented with following his dismal show in New Zealand and South Africa. Dhoni even dropped him for a few games and critics slammed him for "losing originality" and called him a confused soul.
Not bogged down, Ashwin kept experimenting which helped him understand his strengths and he returned to his original action with good results.
Ashwin's demeanour reflects confidence but it borders on arrogance as it was evident during his press conference on Saturday — on the eve of match against Australia.
When asked about his Sunil Narine-like action, Ashwin's replied, "I want to do something different. I want to keep trying something – unless you try or venture and find out what can work or not. I'd never bowled in full-sleeves before. So, I wanted to see how it would feel. And I just wanted to see if you can get more revs on the ball if you can do a little bit with your elbow, as much as that is.
"That's what it was all about. You can get a lot of advantage with these things — so why should I lag behind if someone else is getting a competitive edge?" he said.
The man of the match performance has given been a major boost. And he is quick to add that such rewards will go a long way in restoring bowler's confidence in this batsman-driven format.
"For a batter who has not got runs for five-six games to actually get runs and a man of the match award – it's going to really boost his confidence. It's the same for a bowler. Unless you appraise the bowler with something like that you'll never find good bowlers coming through. That is one thing I really believe in," he said.
So what different does he do on the slow wickets of Dhaka? "It's a bit of variation in pace more than anything else. That's what I've been looking to do — vary the length and pace. You slow it down, you can get a bit of purchase. Yesterday (against Bangladesh) there were occasions when I slowed it down and the ball actually spun the other way."
The offie is often seen bowling round the wicket and even Ashwin can't explain why.
"As such I've not thought about anything like that. It's a common phenomenon, isn't it? You see off-spinners coming around the stumps straight away these days. I cannot explain why we do it. It's just what you feel right. If it's worked, you want to stick to it. A batsman makes runs with a bat, he sticks to the same bat. Something like that," he added.
Well, even pokers sit cross-legged to "cross out" bad luck. Next on Ashwin's to learn lists should be to keep a poker face to rule out being thought of as arrogant. However, if he continues to keep his aces up his sleeve, none of these would matter.