Heartbreak for Services as they fold up in less than 35 overs; Mumbai to take on Saurashtra in Ranji final.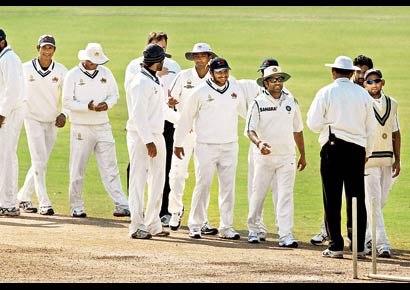 Finally, all Mumbai needed were just 34.4 overs and 160 minutes to reach their 44th Ranji Trophy final. Services' resistance wilted when Yashpal Singh, one of their most consistent bats this season, was caught behind in the day's eighth over.
Yashpal seemed to be in his zone. Not a single delivery troubled him. But he drew his bat fatally to a Shardul Thakur delivery that he could have left alone. When skipper Soumya Ranjan Swain (74) perished after five overs, Mumbai were already sniffing a win. All Services had to do at 195/5 was play out time.
Sarabjit Singh and Rajat Paliwal did made Mumbai work hard for wickets. Once Dhawal Kulkarni (5/33) cleaned up Rajat Paliwal, the visitors polished off the Services tail in quick time. "Shardul and Dhawal bowled their hearts out. If you look at it, this pitch just got better and better for batting. After we lost two days because of rain, the wicket was rolled so much that it was like batting on a first-day pitch. We just wanted to get past 400 and also see how the surface was playing because it had become different," said Mumbai skipper Agarkar, declared Man of the Match for his sparkling 145 in the first dig.
Agarkar said Mumbai were not overly worried about the time lost, but admitted that they didn't want the toss of coin to decide the winner. "You don't want it to end that way. We were hoping to get 100-120 overs to bowl to Services but we were lucky to get more than that. The wicket became better to bat on as there was no natural wear and tear. It was hard work and we're very happy with the result," he added. Mumbai will now take on Saurashtra in the final at the Wankhede from January 26 onwards.
Scorecard
Mumbai 1st innings: 454
Services 1st innings (O/N 164 for 3): S Swain c Jaffer b Dabholkar 74, Y Singh c Tare b Thakur 58, R Paliwal b Kulkarni 11, S Singh c Tare b Thakur 11, A Sinha c Tare b Kulkarni 22, S Yadav c Tare b Kulkarni 3, S Nazar c Nayar b Kulkarni 0, N Singh not out 0
Extras: (B4, LB4, W3, NB2) 13
Total: (All out; 91.4 overs) 240 (2.61 runs per over)
FoW: 4-186, 5-195, 6-203, 7-227, 8-230, 9-235, 10-240
Bowling: A Agarkar 13-4-39-0, D Kulkarni 21.4-8-33-5 (NB1), V Dabholkar 19-6-51-1, A Chavan 12-4-33-1, S Thakur 21-1-62-3 (NB1, W2), A Nayar 5-0-14-0 (W1)