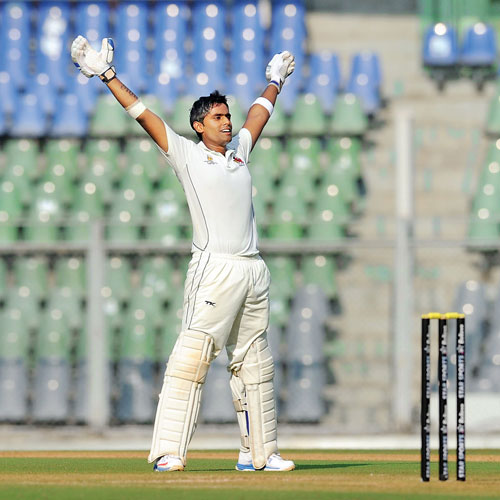 In cricket, as in life, people learn from mistakes. Suryakumar Yadav is a perfect example of this. Often criticised for throwing his wicket away, the 23-year-old scored a near-flawless century against a decent-looking Maharashtra attack to take Mumbai out of the woods on Day 1 of the Ranji Trophy quarterfinal tie at the Wankhede on Wednesday.
Yadav could not have found a more appropriate time to score these runs. It was his first first-class century in two seasons. What's more, he couldn't have hoped for a better partner Vinit Indulkar.
Indulkar, playing his maiden first-class match since December 2010, was unlucky to have missed out on a hundred. Yadav was allowed to play his natural game and his free-stroking abilities fetched him 120 (209 minutes, 139 balls, 18x4) while the more patient Indulkar fell for 82 (252 minutes, 164 balls, 13x4). Together, they stitched 183 for the fifth wicket as the defending champions, put in to bat on a pitch that still has something in it for the fast bowlers, finished the day with the scoreboard reading 306/7.
Maharashtra relied on their medium-pace trio of Samad Fallah, Anupam Sanklecha and Shrikant Mundhe to deliver the goods. They did not disappoint in the first session and the last half-an-hour, striking when the ball was new. But equal credit should be given to the way Indulkar and Yadav went about their business. One was happy to stick to around while the other played with a clutter-free mind and kept the scoreboard ticking.
Indulkar's was a knock that the legendary opener Sunil Gavaskar, who was making his Ranji debut as a TV commentator on the day, would have been proud of. The 29-year-old walked in when Mumbai were 55/2 with opener Kaustabh Pawar and Aditya Tare back in the hut.
Indulkar began to grow in confidence in the company of Wasim Jaffer (44), who looked good for another big score but fell tamely just before lunch. Abhishek Nayar's removal to a slip catch 12 minutes after the break justified the visitors' decision to bowl.
However Indulkar and Yadav upset Maharashtra's plans. Yadav, who had led India Under-23 to glory in the ACC Emerging Teams Cup in Singapore last August, was keen on making a statement. Later, he admitted he was out there to enjoy his game. The hundred was a result of this.
Yadav enjoyed himself and delighted those watching him. He curtailed his strokeplay initially, watched the ball cautiously while caressing the loose deliveries through the gaps. His straight drives were particularly impressive.
There was a perfect understanding between Yadav and Indulkar and there was nothing much visiting captain Rohit Motwani could do with the limited resources at his disposal. Whatever Maharashtra tried, in terms of bowling chances and all that, the right-handed duo was up for it.
As the fifth-wicket stand blossomed, Maharashtra earned the breakthrough through Sanklecha, who sent back Indulkar. The medium pacer beat him in defence and induced the edge. Sanklecha struck again with the second new ball by having Yadav edge one to second slip. Maharashtra did well to come back in the last half hour by picking up three wickets. They could have been in a much stronger position had Motwani not missed a stumping chance offered by Yadav (then on 50). Motwani and slip fielder Kedar Jadhav also failed to hold on to an Indulkar edge when the batsman was on 63.