As many as five dropped catches allow Karnataka get firm grip in title clash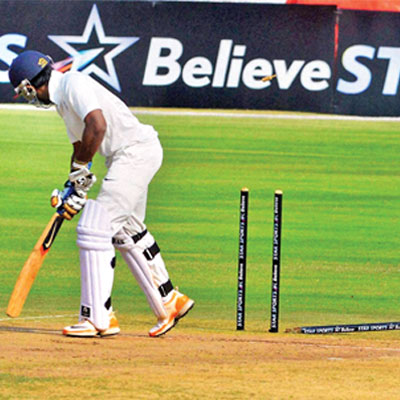 It is said a good pair of hands in the field is essential to make a good team. Maharashtra realised this much to their dismay as they saw the Ranji Trophy final slipping away from their hands along with few catches on the second day.
After getting bundled out for 305, Maharashtra had a good chance of making a comeback on the dead pitch of Rajiv Gandhi international stadium here. But their lethargic approach on the field cost them dear and it would be quite an achievement if they go on to win this match and eventually the long-awaited title.
At the end of the second day, Karnataka enjoyed a firm grip on the match at 230 for no loss. Ganesh Satish, who was promoted to replace injured Robin Uthappa, utilised the opportunity well with a brilliant century (117, 207 balls, 16x4).
He also built an unbeaten 216-run partnership with opener KL Rahul, who is just six runs short of his century (94, 189 balls, 9x4, 1x6).
However, the duo could have been sent back to pavilion much earlier if fielders had held on to catches. Totally, Maharashtra dropped five catches on the second day — three in the first session followed by two in the third.
First it was Harshad Khadiwale, who gave a reprieve to in-form Rahul at gully on Samad Fallah's wide delivery in the third over. Rahul was yet to open his account.
Later, wicketkeeper Rohit Motwani missed a sneaky cut by Satish, again off Fallah's bowling. Another catch was put down in the 10th over, when Anupam Sanklecha's not-so-quick reflexes in the follow-through gave another lifeline to Rahul when he was on 12.
Post lunch, both Rahuil and Ganesh were dropped again with 74 and 89 runs in their kitty respectively.
Rahul who has been consistent throughout the tournament is just 33 runs away from his 1000-run mark and is looks set to finish as the second highest run-getter of the season.
Earlier, R Vinay Kumar and Cogot rid of overnight batsmen Ankit Bawne and Sangram Atitkar and brought in an early end to Maharashtra innings.
SCORECARD
Maharashtra (1st innings): A Bawne b A Mithun 89, R Motwani c CM Gautam b Mithun 17, S Atitkar c CM Gautam b S Aravind 50, S Mundhe c MK Pandey b S Aravind 7, A Darekar c S Aravind b Vinay Kumar 2, A Sanklecha Pandey lbw b Vinay Kumar 1, S Fallah not out 2;
Extras (B5, LB6, NB5) 16
Total: (all out, 104.1 overs) 305 (2.92 runs per over)
Fall of wickets: 6-272 (Bawne, 91.1 ov), 7-294 (Mumdhe, 99.5ov), 8-301 (Atitkar, 101.1 ov), 9-302 (Sanklecha, 102.4 ov), 10-305 (Darekar, 104.1 ov)
Bowling: V Kumar 30.1-6-81-3, A Mithun 23-8-49-3, S Aravind 26-6-65-3, M Pandey 1-0-2-0, S Gopal 13-0-54-0, K Nair 5-1-21-1, A Verma 4-0-14-0, G Satish 2-0-8-0
Karnataka (1st innings): R Uthappa retd 10 , K Rahul batting 94, G Satish batting 117.
Total: (Zero wickets, 68 overs) 230 (3.38 runs per over)
Bowling: S Fallah 16-2-40-0, A Sanklecha 15-3-40-0, A Darekar 9.5-0-49-0, S Mundhe 12-2-43-0, C Khurana 10.1-0-35-0, S Atitkar 5-0-18-0