Kedar Jadhav (112) and Ankit Bawne (61) give Maharashtra some respite with 118-run partnership on fourth day against Karnataka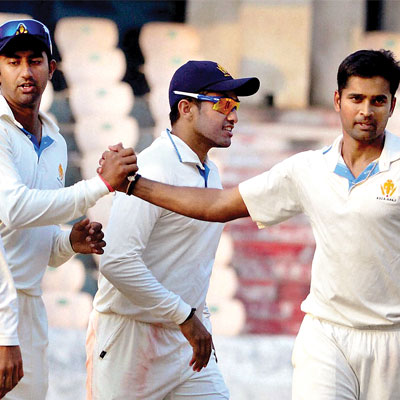 The Ranji Trophy final between Karnataka and Maharashtra took an interesting turn on the fourth day, when the latter pushed themselves hard to gain a 62-run lead and thus kept their challenge alive in the game.
After the third day's play, it looked like Karnataka had the match in their bag but Maharashtra's fight gives them some hope. They would be looking to score quickly on the fifth and final day and with a decent target, hope to give at least a couple of sessions to their bowlers to get the Karnataka batsmen out.
On Saturday, After getting rid of Karnataka's tail in little more than an hour in the morning, Maharashtra rode on the brilliant knocks from Kedar Jadhav (112, 135B, 10x4) and Ankit Bawne (61, 115B, 4x4) to notch up 272/6 in their second innings at the Rajiv Gandhi International stadium here.
When stumps were drawn, skipper Rohit Motwani and Shrikant Mundhe were at the crease.
Earlier, Maharashtra, who were struggling to find their foot for the past two days, finally managed to control proceedings for the first time.
Scoreboard
Maharashtra (1st innings): 305
Karnataka (O/N 474/7): S Gopal c Motwani b Sanklecha 10, R Vinay Kumar run out (Khadiwale/Motwani) 28, A Mithun c Motwani b Mundhe 16, S Aravind not out 0; Extras (B9, LB4, W3, NB9) 25; Total (all out, 171.1 overs) 515; FoW: 8-475 (Gopal, 160.5 ov), 9-513 (Mithun, 169.3 ov), 10-515 (Vinay Kumar, 171.1 ov); Bowling: S Fallah 37-8-93-3, A Sanklecha 30-7-83-1, A Darekar 28.5-4-108-0,
S Mundhe 31.1-5-90-3, C Khurana 39.1-10-110-2, S Atitkar 5-0-18-0
Maharashtra (2nd innings): H Khadiwale c Satish b Vinay Kumar 9, V Zol c Gautam b Vinay Kumar 31, A Bawne st Gautam b Gopal 61, K Jadhav c Uthappa b Vinay Kumar 112, S Atitkar c Verma b Gopal 0, C Khurana c Uthappa b Vinay Kumar 37, R Motwani batting 3, S Mundhe batting 3; Extras (B2, LB4, W10) 16; Total (6 wickets, 68 overs) 272 ; FoW: 1-18 (Khadiwale, 2.5 ov), 2-54 (Zol, 15.1 ov), 3-172 (Bawne, 41.4 ov), 4-174 (Atitkar, 43.3 ov), 5-262 (Khurana, 63.5 ov), 6-268 (Jadhav, 65.4 ov); Bowling: R Vinay Kumar 21-1-84-4, A Mithun 16-1-47-0, S Aravind 15-0-49-0, R Uthappa 2-0-15-0, M Pandey 2-0-14-0, S Gopal 10-0-37-2, A Verma 2-0-20-0