Zol, Jadhav guide Maharashtra to semis with eight-wicket win over defending champions.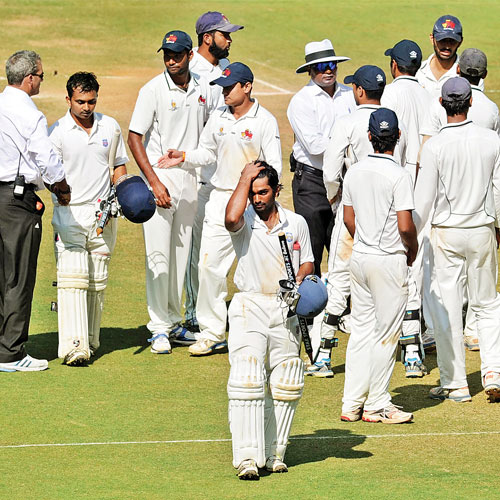 After a period of struggle and the return of Zaheer Khan, Mumbai were expected to bounce back on a green top, not get knocked out. However, nothing seemed to help the holders who bowed out of Ranji Trophy as Maharashtra beat them by eight wickets, with a session and day's play to spare, in the quarterfinals on Saturday.
Maharashtra's experienced batsman Kedar Jadhav and India U-19 captain Vijay Zol played a key role in taking their side to semifinal. Their unbroken third wicket partnership of 215 in four hours of solid concentration saw Maharashtra trounce the 40-time Ranji champs 11 minutes before tea here at the Wankhede. Jadhav remained unbeaten on 120 (155b, 14x4, 3x6) while Zol was on 91 not out (180b, 13x4).
Maharashtra have made a strong statement that they are not a team to be taken lightly. It was not for nothing that they have two top run-getters in this season, though the order may have changed during this match. Harshad Khadiwale, who was the lone man dismissed inside 20 minutes of play after he fended a Zaheer short ball to the slip cordon, was only happy to give the No. 1 place to Jadhav, who at the end of the match has 1,034 runs.
For Maharashtra to emerge victorious, Jadhav had to play a crucial knock. His first innings score of 51 on Thursday got sidelined because of Shardul Thakur's exploits with the ball. But on Saturday, the 28-year-old Punekar negated Mumbai bowling. Wrecker-in-chief in the first innings, Thakur, bowled all over the place in the second.
Jadhav and Zol curbed their natural style of aggressive batting. They had nothing to lose, having come this far in the match. Beginning the day on 28/1, requiring another 224 for victory, they batted intelligently. They did not hang their bats in the corridor outside the off stump like the Mumbaikars did on Friday. Zol and Jadhav purchased time earlier in the day, only scoring off loose deliveries while offering a straight bat to anything bowled stump-to-stump.
For Mumbai, only Zaheer looked like picking up a wicket in the morning, and when Zol and Jadhav were equally good to the task, it became difficult for the India spearhead too. Abhishek Nayar was impressive in his first spell but was unlucky when Kaustubh Pawar dropped a sitter at point when Zol was on three and Maharashtra, 43/2 in the 16th over.
But with Jadhav in supreme touch, Maharashtra had the upperhand, especially as all the demons on the pitch seemed to have disappeared all of a sudden. Jadhav guided the young Zol admirably, telling him not to curb his attacking instincts after the 'life' and on the odd occasion when the left-hander suffered lapse in concentration and was lucky not to nick behind.
Jadhav's footwork against the spinners was impressive, picking left-arm spinner Vishal Dabholkar over long on for three sixes in one over. As the Mumbai bowlers looked tired, unable to get a breakthrough, Jadhav and Zol went for their strokes.
Jadhav's fifth century in 14 innings this tournament and ninth in first-class was worth all the accolades. Zol would not have regretted one bit for missing out on a century as he played an equally important role in his team's historic victory.