Maharashtra toil as team from south sit pretty with 169-run lead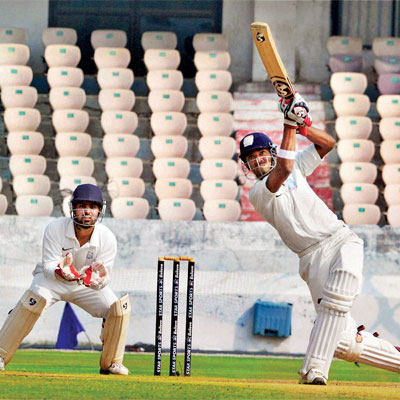 Karnataka strengthened their grip on the match with a crucial 169-run first innings lead at the Rajiv Gandhi international cricket stadium here. At the end of the third day, they had put 474 runs on board for the loss of seven wickets, with skipper R Vinay Kumar (8, 21 balls, 4x2) and Shreyas Gopal (9, 35 balls, 4x2) at the crease.
The Karnataka pair of Uthappa (72, 108b, 10x4, 1x6) and KL Rahul built 88-run partnership, helping their team overhaul Maharashtra's first innings score of 305 before lunch.
Rahul joined the 1,000-run club to finish second behind Maharashtra's Kedar Jadhav (1,111). He also scored his third century (131, 212balls, 13x4, 2x6) of the season.
Maharashtra's seamers Samad Fallah and Shrikant Mundhe continued their wearisome job, and were rewarded after lunch. Fallah claimed three to become the highest wicket-taker for Maharashtra this season with (34 wickets).
Scorecard
Maharashtra (1st innings)
Total: (all out, 104.1 overs) 305 (2.92 runs per over)
Karnataka (1st innings): R Uthappa c R Tripathi b S Mundhe 72, L Rahul c R Motwani b S Mundhe 131, G Satish b C Khurana 117, M Pandey lbw b S Fallah 36, K Nair 44 c R Motwani b C Khurana, C Gautam c&b S Fallah 7, A Verma lbw b S Fallah 29, S Gopal batting 9, v Kumar batting 8 Total: (for 7 wickets, 158 overs) 474 (3.00 runs per over)
Bowling: S Fallah 32-8-47-3, A Sanklecha 25-5-66-0, A Darekar 26.5-4-105-0, S Mundhe 30-4-89-2, C Khurana 39.1-10-110-2, S Atitkar 5-0-18-0
Fall of wickets: 1-230 (G Satish, 68.5 ov), 2-318 (L Rahul, 93.5 ov), 3-345 (R Uthappa, 101.4 ov), 4-380 (M Pandey, 113.5 ov), 5-394 (C Gautam, 119.5 ov), 6-447 (K Nair, 146.2 ov), 7-461
(A Verma, 151.2 ov)