Right-hander compiles an unbeaten 89 as Maharashtra end Day One of Ranji Trophy final against Karnataka at 272/5.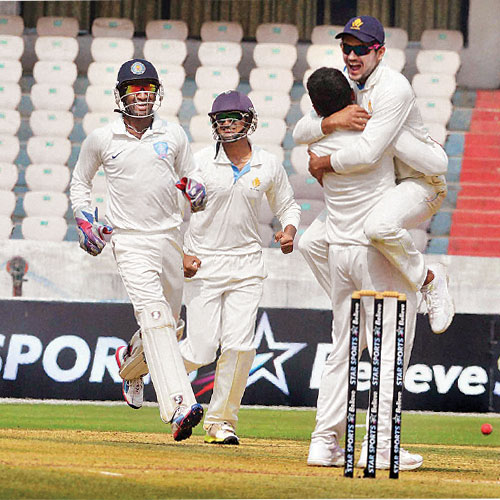 Maharashtra batsman Ankit Bawne has scored crucial runs in tricky situations this season. The 21-year-old did the same on Day One of the Ranji Trophy final against Karnataka at the Rajiv Gandhi International Stadium here on Wednesday. Bawne's heroic unbeaten 89 (172 balls, 10x4) helped Maharashtra recover from a precarious position (144/4). By stumps, they had posted a healthy 272/5.
Bawne, who walked in at the fall of Kedar Jadhav (37, 44 balls, 6x4), resurrected the Maharashtra innings with 50-plus stands with skipper Chirag Khurana (64, 145 balls, 8x4), Rohit Motwani (17, 61 balls, 2x4) and Sangram Atitkar (29 batting, 66 balls, 5x4).
Earlier, Motwani's decision to bat first seemed right. The pitch, which had a smattering of grass, provided little assistance to the bowlers. However, Karnataka's pace trio of R Vinay Kumar, S Arvind and Abhimanyu Mithun bowled tight spells and, with four slips and a gully fielder, they were on the offensive.
Kumar got the early breakthrough by having Khadiwale (15, 29 balls, 3x4) trapped in front with a full-length delivery. The batsman was just five runs away from completing 1,000 runs in the season. No. 3 batsman Vijay Zol, who will lead the Indian team at the ICC Under-19 World Cup in the UAE next month, scratched around for 28 deliveries before falling for five. The left-hander poked at an S Aravind delivery outside the off stump, the edge landing in wicketkeeper CM Gautam's gloves.
Meanwhile, Khurana, who was dropped by Manish Pandey off Arvind on 14, welcomed the arrival of senior pro Jadhav. Holding fort, Khurana allowed Jadhav to play his natural game. This move paid off and Jadhav made his intentions clear by attacking leggie Shreyas Gopal. He didn't spare the seamers either and collected three boundaries off a single Kumar over.
In the process, he eclipsed Ajinkya Rahane (1,089) and Sridharan Sriram (1,075) to become the fourth-highest run getter in a Ranji Trophy season. Only VVS Laxman's (1,451 in 1999-00), Vijay Bharadwaj (1,280 in 1998-99) and Wasim Jaffer (1,260 in 2008-09) have tallied more.
However, the danger man didn't last long and Mithun got the prize wicket just before lunch. Umpire Anil Chaudhary took a long time but he eventually upheld the appeal for caught behind. Jadhav's body language clearly suggested he hadn't nicked it. Maharashtra coach Surendra Bhave was also displeased and called it poor umpiring.
Post-lunch, Maharashtra benefited from a timely half-century partnership between Khurana and new man Ankit Bawne. A member of Maharashtra's Under-25 team, Khurana played a mature innings and raced to a well-deserved 50. Khurana fell when he tried to sweep Karun Nair, only to be given leg-before. Interestingly, he became Nair's maiden wicket in first-class cricket. Maharashtra lost Motwani early in the third session, but Bawne found an able ally in Atitkar and the duo held fort for the rest of the afternoon.
ALL IN A DAY'S WORK
FIRST SESSION
Karnataka lose toss, but win session. Vinay, Mithun and Arvind bowl tight spells and remove Maharashtra's big three — Harshad Khadiwale, Vijay Zol and Kedar Jadhav — inside 31 overs.
At Lunch: Maharashtra 95/3 in 66 overs (Khurana 31*, Bawne 4*)
SECOND SESSION
Khurana and Bawne add 54 runs for the fourth wicket before Nair gets rid of the former for 64. Bawne then adds 51 with skipper Rohit Motwani as Maharashtra score 100 in the session.
At Tea: Maharashtra 195/4 in 33 overs (Bawne 53*, Motwani 15*)
THIRD SESSION
Mithun returns to have Motwani caught behind for 17, but new man Atitkar plays perfect second fiddle to Bawne and the duo bat with gumption for the remainder of the afternoon.
At Stumps: Maharashtra 272/5 in 90 overs (Bawne 89*, Atitkar 29*)
SCORECARD
Maharashtra (1st innings): H Khadiwale lbw b V Kumar 15, C Khurana lbw b K Nair 64, V Zol c CM Gautam b S Aravind 5, K Jadhav c CM Gautam b A Mithun 37, A Bawne batting 89, R Motwani c CM Gautam b A Mithun 17, S Atitkar batting 29; Extras: (B5, LB6, NB5) 16
Total: (5 wickets, 90 overs) 272 (3.02 runs per over)
Fall of wickets: 1-24 (Khadiwale, 8.4 ov), 2-42 (Zol, 16.5 ov), 3-90 (Jadhav, 30.5 ov), 4-144 (Khurana, 49.6 ov), 5-215 (Motwani, 72.1 ov)
Bowling: V Kumar 23-5-56-1, A Mithun 19-6-44-2, S Aravind 23-6-62-1, M Pandey 1-0-2-0, S Gopal 13-0-54-0, K Nair 5-1-21-1, A Verma 4-0-14-0, G Satish 2-0-8-0