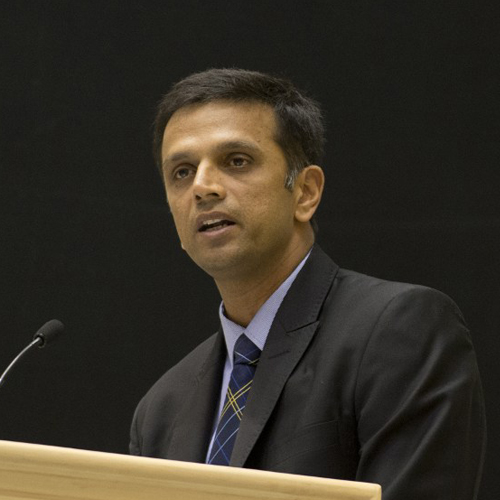 Former India skipper Rahul Dravid believes that the forthcoming England tour will be a good opportunity for young Indian batsmen and the long tour will help them grow as players. The Indian batting legend said batsmen including the likes of Virat Kohli, Cheteshwar Pujara, Ajinkya Rahane and Shikhar Dhawan will be keen to make it count in the difficult English conditions.
"I think Virat, Cheteshwar, Rahane and even Dhawan in the last two series have shown us that they can do well abroad. They have all got hundreds abroad. I think this is a great chance for them to develop and grow as players. In the five Test match series there will be a lot to learn. It is going to be a tough series but it will also be a good opportunity," Dravid told reporters in Mumbai on Tuesday.
The 164-Test veteran said it is easy to bat in those conditions if you get into form a bit early. " In England if you get set and if you bat well you can score a lot of runs, there is a great opportunity to score runs because the outfields are fast, the wickets are quite good. If you can sort of get into some little bit of form early in the tour and make it a big tour it will be a great for a lot of these young guys in their development as cricketers. It will be interesting to see how they can cope," he added.
Dravid revealed the challenge for the Indians will be to take 20 wickets if they need to win. "The challenge for India I believe will be the ability to get 20 wickets. They must find a way to get 20 wickets. We saw with Sri Lanka in the last game as well they just didn't seem to be able to get 20 wickets against England and that becomes a big challenge for sub-continental teams when we travel abroad. If India can find a couple of bowlers who can step up during the series then I think we are in for a great series," he said.
The 41-year-old said the young bowlers will have to put their hands up in the quest of taking 20 wickets. "We have got a young bowling attack and you never know who will step up. We went there in 2007 and we had Zaheer, Sreesanth and RP Singh, who bowled beautifully in the series and they were well supported by Anil. It is a question of stepping up, the potential is there.
"Ishant has been around a long time, he has got experience. He is someone whom I believe should be really his time to step up and say I am going to lead this attack and hopefully will look after this attack for the next couple of years because Zaheer is unfortunately not there. It is a great opportunity for Ishant and someone like Ashwin and Jadeja if the summers are dry and if it does start turning towards the fourth and fifth day of a Test match the spinners do come into play in England," he siad.
Dravid also revealed the trick for seamers to be successful in the English conditions. "Those are good conditions to bowl, but you have to bowl and your length has to be right. If you bowl the wrong length in England you can get punished as well—very badly because the outfields are fast and the batsmen are waiting for anything short. India will do well to pitch the ball up and get the ball to swing. Whichever of the guys do that they will have a good chance of success."
India will be playing a five-match Test series after a long time and Dravid feels it is going to be a one big challenge for the youngsters. "It is going to be a challenging series. Playing five Tests is never easy but I believe India has got a pretty side of what I have seen in the last two series in South Africa and in New Zealand. They went quite close to winning a Test match in both those series, whether it was in Johannesburg or in New Zealand, they had their chances and they just could not grab them. I think this might be a good time and a good series for them to actually make that jump and be able to win one or two Test matches abroad. If they do that they will get a lot of confidence as a team because they are a young side and a developing side," he said.
England have lost quite a few players to retirement
England may lack the experience like what they had in the 2011 series, Dravid believes that they will still be competitive. "They showed against Sri Lanka that they are still a very, very competitive side in their own conditions. They have got some young players they have got some players finding their way in international cricket as well but make no mistake they will be competitive as well," he said.
On Zaheer Khan who missed out the series after getting injured in Indian Premier League, Dravid said that one can't write off a player like him. "Zaheer is a great bowler, a great performer and you can never write off someone like that off. It is a question of his fitness. If he gets fit and if he is bowling well any team would want to have a guy like him in the side. I am not really sure on his fitness at the moment, where it is at. He obviously got injured during the IPL. If he can comeback and if he can be a hit then surely any team would like to have a guy like him.