World No. 1 Nadal has been acquired by the lone Indian franchise in the inaugural tennis league slated for year end * Sania, Bopanna will be Nadal's team-mates * Djokovic to turn out for Dubai.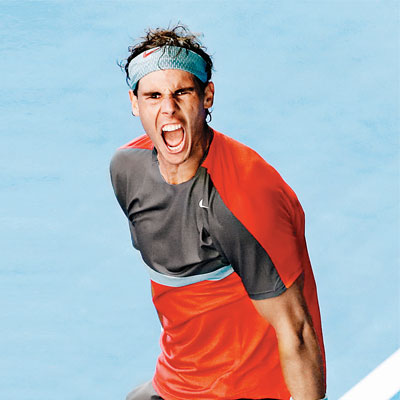 All those tennis fans who dreamt of going overseas to watch Rafael Nadal play need not look far beyond Mumbai now.
Yes, the World No. 1 will play for the Mumbai team in the inaugural International Premier Tennis League (IPTL) this year end. The league held its first player draft with the four confirmed, though undisclosed, team owners for the first season in Dubai on Sunday.
The Mumbai leg of the league is scheduled on December 7, 8 and 9, and it remains to be seen if the Spaniard does actually play in India or decides to give it a miss. The other three cities are Dubai, Singapore and Bangkok.
Nadal's fiercest rival, Novak Djokovic, will turn up for Team Dubai, while Wimbledon champion Andy Murray will play for Bangkok. Serena Williams, the top-ranked women's player, will show her might for the Singapore team. Victoria Azarenka, the World No. 2, will play alongside Murray for Team Bangkok.
The Mumbai team has other superstars lined up other than Nadal. Giving him company would be 14-time Grand Slam champion Pete Sampras, World No. 12 Ana Ivanovic of Serbia, the charismatic Frenchman Gael Monfils. It has a strong Indian flavour too with Rohan Bopanna and Sania Mirza in their ranks.
Former World No. 1 and Grand Slam champion Carlos Moya of Spain, who attended the draft and will play for Bangkok, said, "I'm very excited to be part of this competition, and look forward to playing for Bangkok. I have fond memories from the days I've played there."
A whopping $24 million was spent to buy 28 players by the four teams for the league that is tentatively scheduled from November 28 to December 14. It will feature 24 matches across the four host cities, with each team playing on a home-and-away basis.
Team owners are allowed to add players to their kitty, and can have a maximum of 10 players.