The Spaniard and his Swiss rival will play for a place in the men's final at the Australian Open. Nadal's hand blister may play a vital role in the match outcome.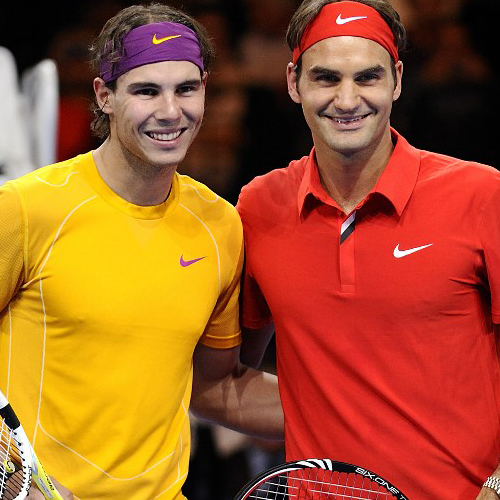 A lot has been written and said by experts, analysts and tennis lovers about the Friday semi-final that will see Rafael Nadal face-off against Roger Federer for a place in the Australian Open final. This is the duos 33rd meeting.
With a new coach, a bigger racquet and baby No3 on the way, 32-year-old Federer is seeing new life in his game and reminds fans of his glory days on the court with his play in Melbourne.
Nadal on the other hand is seeking his third Grand Slam out of four attempts as he looks to cap his comeback and reinstate his authority as World No1.
The Spaniard missed the first Grand Slam in 2013 as he was out with injury but went on to win the French Open, lose in the first round at Wimbledon in a shocker but made an awesome comeback to win the US Open, marking one of the greatest comebacks in tennis.
Having won all the Grand Slams except, the Australian Open at least twice, Nadal is hungry and was denied in 2012 by Novak Djokovic in a nail bitting and close match. But for the 27-year-old Spaniard his blistered left hand may prove to be the one thing that can bust his dream of emulating Rod Laver to be the only other man to have won all Grand Slams at least twice.
Their rivalry has been epic and in recent time, Nadal has managed to thrash Federer, but his uncle and coach Toni refused to classify Rafa as he is fondly called by family and fans, the favourite.
Watch Toni Nadal's interview:

Rafael Nadal in his pre-quarter match against Kei Nishikori and his quarter-final clash with Grigor Dimitrov was seen in pain as his hand bled and was seen to have affected his serve and game against the Bulgarian.
Nadal dropped a set for the first time in the tournament and managed to win set No2 and 3 by the skin of his teeth. Roger Federer playing some good tennis may challenge the top ranked player a lot more and the World No6 stands a good chance thanks to the blister to Nadal's hand.
Dr Sachin Makne who is a sports expert said, "The blister on Rafael Nadal's hand looks really bad. The treatment he is receiving is top class but as a sports person who is right-handed naturally but plays left handed, he exerts a lot more pressure on his hand than he should. The wound will definitely cause him much trouble with his forehand and backhand which is double-handed. His back-hand may be better as his right hand seems okay. For a person who has played with injury through his career, Nadal may just manage to beat the injury and Federer and make the final. But I would say Federer has an awesome chance since Nadal is not 100% and surely with a day in hand, it is not enough for his hand to heal."
Rafael Nadal getting treatment: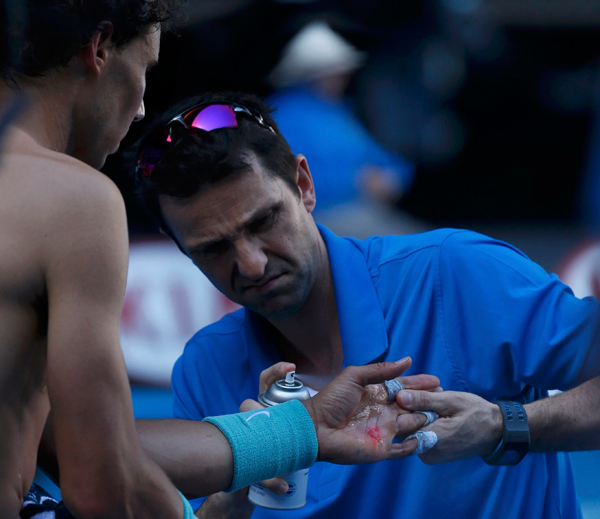 Fans are very excited about the contest, so it has to be seen if the blister manages to bust Nadal's dream comeback or if Federer is able to ace the World No1's game with his new plan.
Both men will give their all, so the semi-final promises to be another Nadal-Federer blockbuster.