Spinner's performances abroad have been less than flattering when compared at home and for deciding Test, Dhoni must consider his options.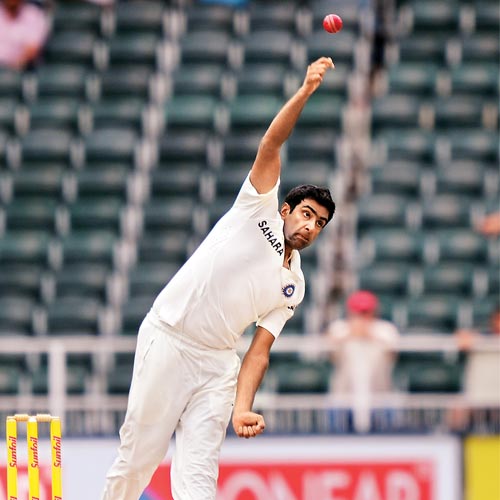 You can't be blamed for mistaking R Ashwin's confidence as arrogance.
Fathom this: after conceding 169 runs and picking up a solitary wicket in the three-match ODI series preceding the first Test, India's frontline spinner had this to say, "I am definitely here, in terms of looking to fight and just go on fighting. I am prepared for a fight. Be it with catching, be it with bowling or be it with batting, I am prepared for it all. So I am just going to go out there and make sure that at least give it 100 per cent of what I can try, and try for a series win. It cannot get any better than that. It means the most to me in life."
Ashwin may be trying hard, but the numbers don't add up. He sent down a total of 42 overs in the Wanderers Test –– 36 of those in the second innings and 20 on Day Five. His returns aren't worth mentioning. Needless to say, he failed to pick up a wicket. And don't forget that the pitch, speckled with cracks and patches, was offering variable bounce.
Bowling spell after spell with that twitchy action of his, Ashwin was equally ineffective with the old and semi-old ball. He stopped in his delivery stride, tossed it up, bowled the conventional off-spinner and unleashed the carom ball on many occasions.
In fact, just before the final drinks break, he bowled three in an over. But to no avail. Faf du Plessis and AB de Villiers worked him around with ease. Bar the odd shout for leg-before, Ashwin failed to create genuine wicket-taking opportunities. No wonder the skipper didn't bowl him in the last 20 overs on Sunday.
A champion in the subcontinent, Ashwin's performance in overseas Tests can, at best, be described as mediocre. With just nine wickets in four appearances on foreign soil –– three in Australia in 2011-12 –– he averages a shocking 74.77.
Thus the question: should MS Dhoni give Ravindra Jadeja or Pragyan Ojha a look-in? After all, this is just a two-Test series, and it will be a do-or-die situation in Durban. Ashwin has had three ODIs and a Test to mend his ways, but he has failed to impress or inspire.
Jadeja deserves a chance because his style illustrates the direction spin bowling is taking the world over. Given that he plays a lot of limited-overs cricket, where the main concern is to block one end up and limit the flow of runs, the left-arm spinner gives the ball a flatter trajectory. This coupled with a tight line does the trick. Jadeja doesn't impart too many revolutions on the ball.
When there is turn on offer, he's a handful.
If not, he'll run through his overs quickly. Unlike Ashwin, Jadeja is quicker through the air. This quality will hold him in good stead at Kingsmead, a ground where the wicket is more sub-continental than South African. Not to forget, Jadeja impressed during the 4-0 whitewash of the Australians at home earlier this year. Moreover, his success in limited-overs cricket needs no mention. He was ranked the No. 1 bowler in the world a few months ago. Ojha is a class bowler, no doubt, but Jadeja is a complete package. You'd back him to come good with the bat. In Ojha's case, you won't. Jadeja is also one of the best fielders in world cricket. Ojha's slothfulness makes him a liability on the field.
The options are pretty narrow for Dhoni and hopefully, he is weighing them.