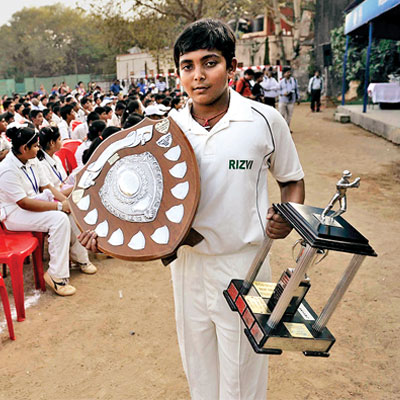 Following his record knock of 546 in an inter-school cricket competition, the Mumbai School Sports Association, last November, had promised to give a replica of the Harris Shield and Giles Shield to Prithvi Shaw.
However, at the presentation ceremony on Wednesday, the teenager did not get any such honour.
On November 20, 2013, Rizvi Springfield's Shaw became made international headlines as he became India's highest scorer (third highest all time score in the world) in an inter-school cricket match, scoring 546 runs in 367 minutes in his school's Harris Shield match against St Francis D'Assisi (Borivli).
To honour Shaw for his performance, the president of MSSA Fr. Jude Rodrigues said he would give the 14-year-old a replica of the Harris Shield and the Giles Shield. Mind you, never before had the organisation promised any player— not even Sachin Tendulkar— such an honour.
On Wednesday, Fr Rodrigues said, "I was out of town and I just returned, maybe the officials have forgotten about the replica shield."
The MSSA officials said they had no idea about it. Cricket secretary of MSSA HS Bhor said, "The president promised him. I do not know anything about the trophy."
Shaw said he was disappointed. He said, "I was eagerly looking forward to get my hands on the replica. Nobody has told us why I haven't been given it," he said.
Shaw also won the Doosabhoy Paul trophy for the highest score in an innings and the Ravi Ramkishore Sanwalka Shield for the best player in the Harris Shield.