Tambe's hat-trick and Watson's over engineer KKR's collapse as Royals defend 170/6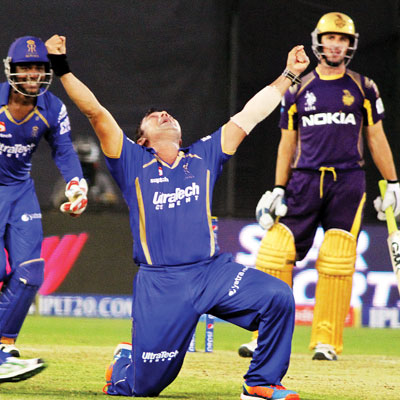 This year, Pravin Tambe's birthday cake must be big enough to hold 43 candles. And the bowler must have enough breath in his lungs to blow them all whilst making a wish. However, one thing is for sure, he has a heart large enough to nurse and realise improbable ambitions.
What else explains his IPL debut at the age of 41? How else did he make it to the Mumbai Ranji team at the age of 42? And on Monday, how did the leg-spinner tick off one more box with a hat-trick for his team Rajasthan Royals as they overcame Kolkata Knight Riders in a cliff hanger?
Tambe is special. Cricketers at top level are an inspiration to younger generation but this one from Mumbai gives hope to those in their late twenties and thirties who are about to throw in their towel. He has shown them losing hope is an easier option.
Monday's hat-trick that put sudden break on KKR's smooth chase was one more feather on cap that covers Tambe's greying hair.
Unlike UAE leg match, Super Over wasn't required as the Royals, with Tambe's (3/26) hat-trick restricted KKR to 160/6 after the hosts posted 170/6 on the board. The visitors looked in total control of the game when they were 121/0 after 14 overs. From there they were reduced to 121 for six at the end of 16th over. A valiant fightback in the end by Suryakumar Yadav was not going to be enough.
This is the first instance of a team losing an IPL game after openers putting up a 100-run partnership.
KKR coach Trevor Bayliss called it unbelievable while man-of-the-match Tambe said his team believed in itself.
Tambe also earned the Purple Cap. He said, "The confidence the team gives me, I will never forget. This was my first hat-trick. At this level you have to keep the energy throughout."
The match, at the Motera here, itself appeared to be run-of-the-mill type as KKR openers galloped toward their target. Gautam Gambhir (54) and Robin Uthappa (65) meant business.
It was soon a match for the Knights to lose. And Royals captain Shane Watson lanced through them in a counter-attack as he picked up three wickets, including both the openers, in the 15th over.
If Watson's over was dramatic then what followed was unbelievable. Tambe's first ball was a wide but Manish Pandey danced down the wicket only to miss it and was stumped by Sanju Samson. Yusuf Pathan was out the next ball to a sharp reflex return catch. Ryan ten Doeschate was trapped in front of the wickets the third ball handing hat-trick to the spinner, who sat down on one knee lifted both his arms in the air and shouted gleefully looking up before his teammates swamped him into frenzied celebrations.
KKR players at this moment appeared like they were now thinking about the next game. But it is unlikely they would easily get over this match and so will be the case with Tambe.
"It was a nice way to close out a game," Watson said. "That's what we talk about in our team set up. PT (Tambe) just keeps going and going, getting big batsmen out all the time. he deserves a pay rise and he is making my life easier for sure."
Tambe did not make any special mention of the hat-trick and said "All wickets that help our team win are special." He added that team mentor Rahul Dravid's inputs helped them keep cool under pressure and believe in themselves.
Dravid is 41 and a year younger than Tambe and that is not usual. But then nothing about Tambe's career is.