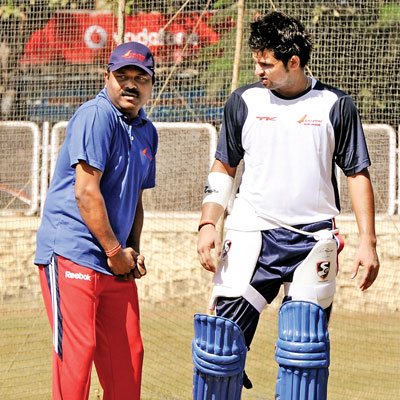 Praveen Amre is back as Mumbai Ranji Trophy coach. This, after interviewing half-a-dozen coaches including former Test players Balwinder Singh Sandhu, Paras Mhambrey and Amre besides retired first-class cricketer and son of the great Vinoo Mankad, Rahul Mankad and Sandeep Dahad.
Amre has been one of the most successful Mumbai coaches in recent times with three Ranji Trophy titles (2006-07, 2008-09 and 2009-10) under his belt. He has a coaching experience of five years with Mumbai from 2006 to 2010 before he excused himself for another assignment.
"Amre has had a better record with Mumbai before. He was busy with some other commitments, hence he excused himself last time. He knows Mumbai and its players and was the best person for the job who could give us the results," MCA joint secretary PV Shetty told dna after Monday's meeting.
The 45-year-old is known to have a good rapport with the players. Apart from that, he has been busy giving some personal guidance in batting to players like Ajinkya Rahane, Robin Uthappa and Suresh Raina who always look up to him when they need to work on their technique.
After his earlier tenure with Mumbai, Amre was also associated with the Indian Premier League teams Mumbai Indians and Pune Warriors as their batting coach.
Having won the 40th Ranji Trophy title last year, Mumbai had a pretty mediocre season this year as they were knocked out of quarterfinals of the league under Sulakshan Kulkarni. There were reports of difference between the coach and the players too which resulted in the association sacking the Kulkarni after the Ranji season and replacing him with Lalchand Rajput for the Vijay Hazare Trophy one-dayers and Mushtaq Ali Trophy T20.
For the record, Amre has been given a one-year contract.
Meanwhile, former Mumbai opener Vinayak Mane has replaced Vinayak Samant as U-25 coach.
Mumbai coaches:
Pravin Amre (Ranji Trophy), Vinayak Mane (U-25), Vinod Raghavan (U-19), Amol Ghag (U-16), Deepak Patil (U-14), Devieka Palshikar (women's senior), Sanjay Gaitonde (women U-19) and Amit Velaskar (University Men)