The Serbian tennis player and his fiancée Jelena Ristic will also become parents by the end of this year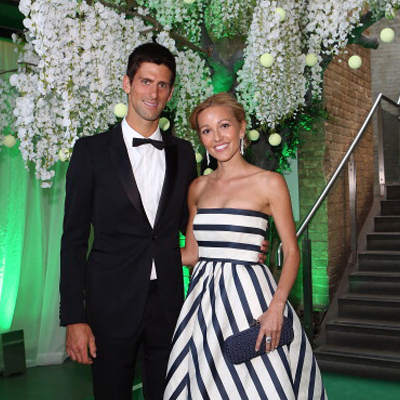 For years he might have tied his opponents into knots with his performance on the tennis court, but it's now time for Novak Djokovic to tie the knot. Days after his second Wimbledon win, the Serbian is all set to marry long-time fiancée Jelena Ristic.
The wedding will take place in the luxurious Adriatic resort of Sveti Stefan in the tiny Adriatic republic of Montenegro in a closed ceremony, local media reported.
To add to the Djokovic's joy, he and his wife are expecting their first child in a few months. The to-be parents wanted to have a private ceremony only with the closest friends and family present. The wedding, Serbian news outlet Blic Online reported, is a two day event, ending with the civil wedding on July 10 at Sveti Stefan. Andy Murray, a week older than Djokovic and a rival since they first played in a junior tournament in France when they were both 11 years old, is rumored to be the best man.
After claiming the win over Roger Federer, Djokovic posted a picture with his family on Twitter.
My precious little family :) #WimbledonChampion #Love pic.twitter.com/GS2bPubrdL

— Novak Djokovic (@DjokerNole) July 6, 2014
Having reclaimed his spot as number 1 in the world rankings, Djokovic claims to have no nervous jitters and is all set for his role as husband and then a father. " I don't feel stressed. I'm actually very excited and joyful about the period that is coming up with the wedding and, of course, my wife-to-be is pregnant. We're going to become parents at the end of this year, so some really exciting times, and a new chapter in our lives that we're looking forward to."
Having announced his engagement to the world on September 26, 2013 via Twitter, the Serb had also taken to the social networking site to announce his impending fatherhood.
Meet my fiancé and future wife :) So happy! Thank you for wonderful wishes #NoleFam and friends! http://t.co/jEfo5fLu8i

— Novak Djokovic (@DjokerNole) September 25, 2013
Jelena is pregnant!!!We will be parents soon! #blessed Postacemo roditelji uskoro!!! #najsrecniji @JelenaRisticNDF pic.twitter.com/8WG1hocGIk

— Novak Djokovic (@DjokerNole) April 24, 2014
Jelena Ristic, who has been dating the tennis star for eight years, is the president of the Novak Djokovic Foundation.