Raikkonen's decision to hop back to his former team has left a sour taste in his current team's mouth as their Twitter account smartly expressed their view.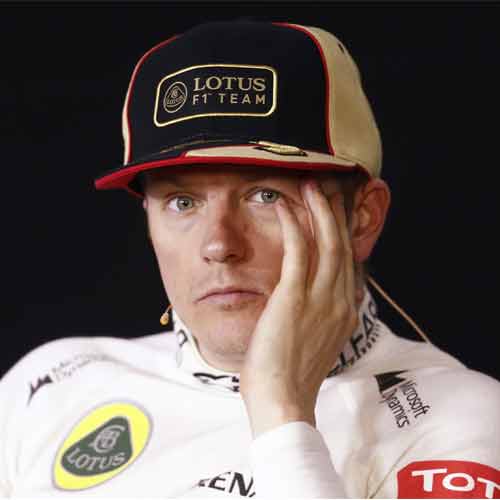 On Wednesday, F1 fans got to hear the biggest announcement of the year as Ferrari made public the buzz that was around. The Maranello based team confirmed that they had signed 2007 World Champion Kimi Raikkonen.
The Finn would partner Fernando Alonso in 2014 and 2015, a move that came as a surprise considering that in 2010, the Italian team paid Raikkonen to sit out as Alonso replaced him.
Felipe Massa on Tuesday announced his departure from Ferrari and the Raikkonen move gained a lot of momentum after that.
The 33-year-old driver's current team Lotus took to Twitter to tweet,
So #Kimi is off to #Ferrari for 2014; it hurts a little bit… #F1 #Raikkonen pic.twitter.com/HkFhWvqpTo

— Lotus F1 Team (@Lotus_F1Team) September 11, 2013
The tweet garnered a lot of buzz of Twitter. Here are a few fan reactions:
Their boss does not brush his teeth, but still they are the best team on social media! thanks @Lotus_F1Team for the rabbit laugh! #ByeKimi

— ????? ????????? (@K7al_L3afta) September 11, 2013
Seriously though, Rabbit butthumping? Lotus need a new social manager.

— Andre Harrison (@Harrison101HD) September 11, 2013
Perhaps @Lotus_F1Team's rabbit image is suggesting Kimi is on the receiving end? Perhaps Lotus is going to rule em all in 2014! #F1

— World Rally Blog (@WorldRallyBlog) September 11, 2013
The team was quick to respond with another tweet a few hours later,
Wow, what a reaction! Thank you, and if that one came as a bit of a shock, sorry. We'll be sure to warn you next time pic.twitter.com/oLBsMcCboK

— Lotus F1 Team (@Lotus_F1Team) September 11, 2013
They also tweeted,
#NoAnimalsWereHarmedInTheMakingOfOurTweet

— Lotus F1 Team (@Lotus_F1Team) September 11, 2013
As the Kimi Raikkonen to Ferrari rumour gained momentum after the Italian GP over the weekend, the team had tweeted on September 9,
What do you think? #Kimi #F1 pic.twitter.com/9iw66ZbTKQ

— Lotus F1 Team (@Lotus_F1Team) September 9, 2013
The rabbits mating tweet felt to many fans like a free to interpret tweet with many saying the team felt like they were shafted by the Finn.
Some also drew comparisons between Kimi as the bunny who hopped back to his own team. Whatever they meant by it, the Lotus team sure managed to get the F1 fans on Twitter guessing and drawing conclusions with their series of tweets.
How Raikkonen and Alonso will get along and who Lotus will sign as the Finn's replacement are a few questions that Wednesday's announcement has left F1 fans asking.
Surely the coming races and the 2014 season that is nearing are not to be missed as the action in F1 has heated up both on and off the track as Sebastian Vettel heads to his fourth World Championship title.