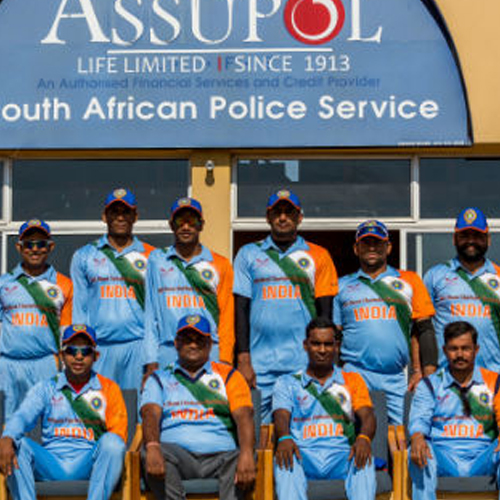 Physically Challenged Cricket Association of India (PCCAI) is a body that is determined to promote the sport for the disabled in the country. They had recently sent a team of some of the best physically challenged cricketers to South Africa and that unit had emerged successful.
Nishad Pai Vaidya traces the story of this organization that has made good progress since its inception in 2012 and its challenges for the future. "We are sportspersons, and we support every sport where the country is involved. I would request the cricket lovers. It is always good to support such teams," said Chetan Sharma, the hero of the 1986 Lord's Test when asked about the recent success of an Indian side.
You may feel he is talking about MS Dhoni's troop's recent victory at the Mecca of Cricket. But Sharma was referring to a group of men with remarkable spirit, who battled the odds and won a series in South Africa 6-0. The team has six members without a leg, a fast bowler without an arm and a captain who had to bear the brunt of polio early in his life. "It feels very nice (to see them play). Everybody has the right to play whatever sport they want to play, whatever condition you are in. I have watched a couple of their matches in Faridabad, it feels nice," said Sharma when asked about the Physically Challenged Cricket Association of India's (PCCAI) team.
PCCAI was founded in 2012. It aims to promote the sport for the disabled in the country. Sharma is not the only cricketer who has heaped praises on them. Former Haryana player Sanjay Bhatia is also a patron of the PCCAI. Indian legend Kapil Dev has hosted the team at his house a couple of years ago and skipper MS Dhoni sponsored their apparel for their recent tour to South Africa. There is certainly no lack of support, and they have lived up to their expectations. Let us go back in time and unravel this great story through the man who envisioned it all. Ravi Chahuan used to play disabled cricket for Haryana in his youth, but had to give up in 2002.
He went about his daily routine, but always had this wish to provide a big stage to physically challenged cricketers in the country. Ten years after his last game, he founded PCCAI with a group of men who were dedicated to the cause. Aadishwar Kumar Jain and Bhatia were some of them who joined his mission. "My dream is to give these players the chance to play internationally," says Chauhan.
Bhatia concurs when he says, "We want to take them forward. We all participated in this mission and today, it is a matter of pride that they have travelled abroad and have won as well." So far, the PCCAI has made steady progress. In 2012, they embarked on a journey to Pakistan to play a few matches. It was then that Kapil had invited the squad to his house and given them a sendoff. It was more than just a tour, perhaps a small step, but a giant leap for the whole mission. Since then they have had more series with Pakistan and recently returned from a successful tour to South Africa. For an association, only two years through in its long journey, this is indeed a remarkable feat.
While they make the efforts to stage the games, the players stand to gain and are living their dream of playing the sport they love.There are guys who don't have hands, yet you will see them field and catch with great energy. That is the passion in this team," says Chauhan. "Every sport has masters. In cricket, you call Sachin Tendulkar or a Sunil Gavaskar The Master. Our guys are all masters in the disabled game. God did not give them everything, yet they play with great spirit.
You watch them play or run around the field; you will feel that they all are masters of their field. I never call them disabled. I call them masters," says Bhatia with great pride. They are not merely players; they are symbols of human spirit. Take the example of Ravi Patil, the captain of the team and the most successful batsman. Chauhan calls him "the Sachin Tendulkar of the team" and the numbers do not disappoint. On his first tour to Pakistan he had smashed a ton. During the tour to South Africa he had scored a century and also has more fifties to his credit. "I used to play tennis ball cricket here in Mumbai and I had no idea that handicapped people used to play organised cricket. I had gone to Lucknow to play and that is where I had met Ravi Chauhan.
He said, we will play with the leather ball and are planning a tour to Pakistan," says Patil when he looks back at how the journey began. For this man from Vasai, a suburb in Mumbai, it was the moment of a lifetime. "It was the first time I had left the country and gone abroad," he says. Travelling across the border, Patil had taken a host of expectations on his shoulders and he duly answered them with a ton in the first game and a fifty in the next. Success on that tour meant that he became a hero. "When I did well in Pakistan, I felt I had done something for the country. When I came back, the people welcomed me with happiness. People here in Mumbai were very happy with the performances," says Patil, who also expresses gratitude for the people who have guided him at the Sainath Sports Club and those around him in Vasai.
The whole team behind him has ensured that he does not have problems for want of money or practice. Speaking about his team, Patil says: "My team is very balanced. It is what I could have hoped for (as captain). We have got a bunch of very talented players." The remarkable thing is that this team even beat a bunch of physically fit men in South Africa. It wasn't just a victory, but one that helped them grow in stature in the eyes of those who watched them play in the Rainbow Nation.Even without meeting them, you can sense the spirit in the team. Patil's voice is full of energy and you can feel the eagerness to play. Likewise, they have someone like a Gurudas Raut, a fast-bowler from Nagpur.
Raut does not have the left arm. Does not matter to him, does it? He bowls with the right to great effect. In December 2012, he had bowled to the Indian team at the nets when they were in Nagpur to play the Test match against England. Then there is Tushar Paul, the wicketkeeper, who has an artificial leg. "Tushar is a fantastic wicketkeeper," says Chauhan. These are only three men, but each member of the squad has a story of his own, each inspiring in its own way. Sharma's words will only motivate this team, "It is very good for them. I hope they keep touring and keep winning. You feel nice when you see a sportsman go abroad and they win, at the end of the day, the flag of the country matters. We wish them luck wherever they go. The difficulties and the path ahead The only thing the PCCAI needs for its growth is support. Getting sponsors hasn't been a very easy task, though when they travel on tours, the hosts take care of them. When PCCAI hosted a team from Pakistan, Red Cross had come forward and sponsored the event. Chauhan says that the sport is difficult to promote, but is determined to see it through. They have managed to find funds on occasion through personal contacts, but need to find support in the long run.
They do not have support from the government or the BCCI. This association also is independent of the Ajit Wadekar-led All India Cricket Association of the Physically Challenged (AICAPC). Chahuan says, "Wadekar-ji is our legend and he started it all.
We are planning to host a tournament and will dedicate it to him." Dhoni did help them before the tour to South Africa when he sponsored their apparel. Dhoni's friend and manager, Arun Pandey, the owner of Rhiti Sports watched one of the games in Varanasi and he then spoke to the Indian captain. Dhoni agreed and even sent the team his best wishes when they were leaving for South Africa. In return, the team dedicated their 6-0 victory to Dhoni on the occasion of his 33rd birthday. Even the Rajasthan Cricket Association (RCA) helped for the South Africa tour.
They sponsored the air-fare of Iqbal Khan, a player who hails from Barmer. They also sponsored the team's clothes, tracksuits, shorts etc. Sunendra Tiwari, the RCA secretary said, "It is great to see them play.
If they can play so well, they need to be motivated. We should do something for them. They are planning a series in India and RCA will help them." There is a good support structure for disabled cricket in some other countries. Take the example of the England and Wales Cricket Board (ECB), who have supported disabled cricket in England. Thus, there is hope for some help from the Board of Control for Cricket in India (BCCI),
the richest cricket body in the world. BCCI did recognize women's cricket, which was a huge step. It is now time they also discover other areas. Bhatia, who was a member of Haryana's Ranji Trophy winning side in 1991, says, "Our mission is to promote these cricketers. It isn't only cricket, but we also hope to promote other sports. There are disabled people who play other sports and we are also planning on promoting them.
We should give them a good environment and motivate them to continue playing." Sharma believes that exposure is important for this ground and they will only grow as they progress. "Slowly and steadily, they keep playing and meet people from different disciplines. They meet Test or First-Class cricketers; they do try and change themselves. The more cricket they play, the more people they meet, they become better sportsmen," he says.
For now, the team has put its head down and are preparing for the Asia Cup, which is scheduled to take place in Pakistan next month. This tournament will also feature a team from Afghanistan. Chauhan says that the PCCAI is only looking forward and have many plans in store. They plan to host an Indian Premier League (IPL) style league for the physically challenged in India. Chauhan says, "All we need is the people's support!"
(Nishad Pai Vaidya is a Correspondent with CricketCountry and anchor for the site's YouTube Channel. His Twitter handle is @nishad_45)