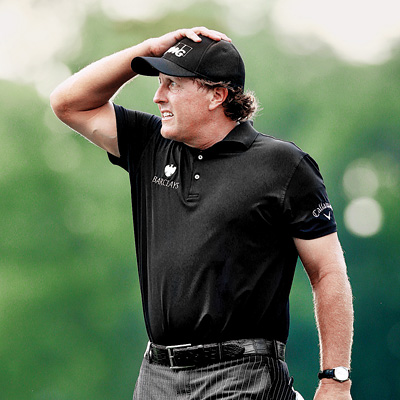 Amidst all the drama at Valhalla, it is hard to miss out Phil Mickelson and Rickie Fowler. They were as much the protagonists in this amazing script as Rory McIlroy himself.
Mickelson was second – a second time at PGA, the first being in 2001, when McIlroy and Fowler were still in school. Standing besides his five Major triumphs are Mickelson's second – he has nine of them. He also has 25 top-5s and 36 top-10s in 89 Majors, monumental achievement in any era but he finds himself stuck first in the Tiger-era and now in the Rory-era.
Stuck in the same Rory-era is Fowler, who joins the exalted company of Jack Nicklaus and Tiger Woods as the only golfers to have had top-5s in each of the four Majors in a single year. But he would rather have one Major nothing else. He was tied fifth at Masters, tied second at US Open and the British Open and now tied third at PGA.
Fowler's coming off age has somehow stayed under the radar as McIlroy keeps taking the centre-stage. Yet, his record and consistency is growing by the hour, to the extent that we could be witness to the McIlroy-Fowler rivalry for years to come. And of course, Mickelson and a re-furbished Tiger Woods are welcome to join that.
Less than four months older than McIlroy, the genial Fowler said, "This is probably the one that hurts the most for me with the majors there year. The first three were a lot of fun and obviously to be in great positions and to get great finishes. This one I felt like I could go out today and win it. I put myself in a good position."
Fowler took the lead around the sixth and then held it for a fairly long time and just as he was getting used to it, McIlroy smashed that second shot on the 10th and holed eagle to come back into the race. From three back McIlroy was in the race again.
What of Mickelson? He said, "It was fun having a chance. It was fun playing with Rickie that final group. It was fun making some birdies early to get up on top of that leaderboard and be on top starting the back nine. That was really fun. And between Rickie and I, we kept going back and forth birdieing holes. Our best-ball score was pretty darned good."
Mickelson, 44, had not finished in top-10 on PGA this year. But he came alive last week with a round that had 10 birdies in 62 at the Bridgestone Invitational, This week he 69-67-67-66.
The PGA title looked headed his way but then it turned away just that little bit, when the 25-foot eagle putt on the seventh hole slid past the hole. Then again on his chip on 16th spun around and out and rolled on 10 feet away ending in a bogey instead of jumping into the hole at the first instance.
No it was not his day. Or Fowler. Sunday belonged to Rory McIlroy.
There was as much as 2.1 inches of rain at Valhalla Golf Club over the week of the PGA Championship.
The 2015 PGA Championship will be held Aug. 13-16 at Whistling Straits (Straits Course) in Kohler, Wisconsin. The PGA Championship has been played twice at Whistling Straits – Vijay Singh (2004) and Martin Kaymer (2010) both prevailed in three-hole, aggregate-score playoffs