Spaniard agrees three-year deal with Bayern Munich.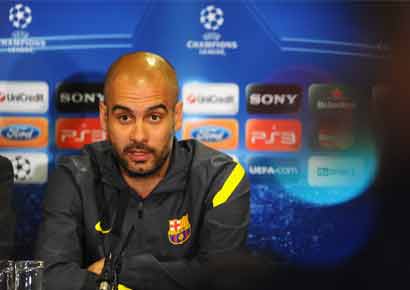 Pep Guardiola delivered a resounding snub to Chelsea owner Roman Abramovich on Wednesday, agreeing a three-year deal to become manager of Bayern Munich from next season.
Guardiola's decision to return to management in the Bundesliga despite huge interest from England, led by Abramovich, has implications across the Premier League, where Manchester City, Manchester United and Arsenal were also watching his next move closely.
The move hugely strengthens Rafael Benitez's position at Chelsea, where he is interim manager. He now has a better chance of persuading the owner, and supporters who have rejected him, that he is the long-term choice.
It also marks a significant victory for Manchester City's Roberto Mancini, who will now feel more secure in his position at the Etihad, having seen off potential competition from both Guardiola and Jose Mourinho.
Guardiola, who won 14 trophies in four seasons at Barcelona, including two European Cups, has signed a three-year deal worth euros 8?million a year (pounds 6.5?million) and will succeed coach Jupp Heynckes on July 1.
"Pep Guardiola is one of the most successful coaches in the world and we are sure that he can make not just Bayern, but all of German football shine," said Bayern Munich chief executive Karl-Heinz Rummenigge.
"We are pleased that we have managed to convince tGuardiola, who was coveted and contacted by many top clubs, to come to Bayern Munich."
Bayern revealed Guardiola's move had been in the pipeline since at least before Christmas, when 67-year-old Heynckes told the club he would not be seeking an extension to his existing contract and would instead retire.
Guardiola has been linked with the Chelsea and City jobs throughout the first six months of a sabbatical that followed his resignation as Barcelona coach last summer.
Chelsea and Manchester City appeared to be preparing the ground for Guardiola with recent signings on and off the pitch. Chelsea's summer transfers, including Oscar and Eden Hazard, appeared tailor-made for the Spaniard. At City, meanwhile, the recruitment of former Barcelona director Txiki Begiristain to work alongside chief executive Ferran Soriano, formerly general manager at the Nou Camp, appeared significant.
Chelsea insist that Guardiola's decision does not change their strategy of seeing out the season with Benitez in charge and then reviewing the managerial post in the summer. Neither did it come as a huge surprise to the hierarchy as they were aware of the overtures made to Guardiola by the Bavarian club.
It does represent a personal rejection of Abramovich, however, after the Russian failed three times to persuade Guardiola to come to Stamford Bridge. His decision to grant Roberto Di Matteo an opportunity to take the job full-time from the start of this season was taken only after Guardiola said he would not take the job immediately. The Spaniard's potential availability informed the decision to offer Benitez only an interim post, with a contract that expires in May.
That position may now be reviewed. Despite enduring hostility from Chelsea fans, his success instilling greater tactical discipline on a side in transition has been appreciated by Abramovich's advisers.
Taking charge for the 2-2 draw over Southampton that consolidates Chelsea in third position, Benitez was spared the abuse that has marked recent games at Stamford Bridge. Di Matteo's name was chanted, but there were none of the calls for Mourinho that came during the 2-0 home defeat to Swansea last week.
The Daily Telegraph revealed last week that Benitez had been the subject of interest from Real Madrid, who appear likely to sack Mourinho at the end of the season. An offer from Madrid could leave Abramovich with a difficult decision to make, and there will be speculation that Benitez and Mourinho could trade jobs.
That would come as a surprise to many at Chelsea given the rancorous nature of Mourinho's departure in 2007. Sources suggest Abramovich would not consider offering him the job, given their history, and the huge pay-off he received when he left.
Given the field of potential successors, which, if Abramovich continues to favour younger appointments, will be long on potential but short on experience, he still cannot be ruled out.
Borussia Dortmund coach Jurgen Klopp, Michael Laudrup, of Swansea, Germany manager Jochim Low, Diego Simeone of Atletico Madrid and David Moyes could all be rivals for the post.
Guardiola's move also leaves City without their favoured option as Mancini's potential successor. Despite signing a five-year contract at the Etihad after guiding City to the title last season, Mancini's grip on his job had been weakened by the team's Champions League elimination before the knockout stages.
It is also no secret that Mancini had viewed Guardiola as a serious rival.