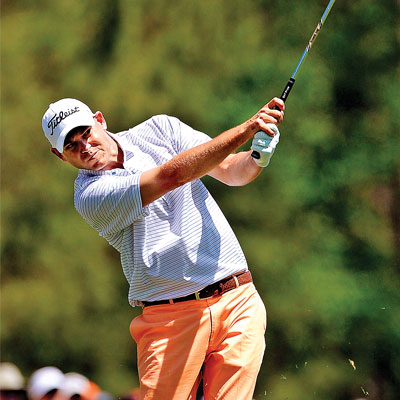 In a field full of newbies and grizzled veterans, Bill Haas lacks in neither experience nor pedigree. On Thursday Haas shot four-under 68 and grabbed sole possession of the first round lead at the 78th Masters at the Augusta National Golf Club.
Born in Charlotte, about 45 minutes by an airplane from Augusta, Haas is no newcomer to the most famous patch of green in golf, which he first saw at the age of six. He has caddied for his father, Jay Haas, who led midway through the 1995 Masters before finishing third the year Ben Crenshaw won the title. Bill, meanwhile, played his first Masters in 2010, five years after his father played his last one. Bill has made the cut each time, but it was only on Thursday that he shot a round in 60s.
Haas was one ahead of the World No. 2 Adam Scott, who is bidding to become only the fourth player to defend his title, the 2012 Masters champion Bubba Watson, and Louis Oosthuizen, the 2010 Open winner, who also lost to Watson in the 2012 play-off.
No less than seven players including a bunch of first-times were at two-under 70 and that included the phenomenal Jimmy Walker, winner of three PGA Tour event this season and leader on PGA Tour Money List. Walker's 70 was matched by early leader Swede Jonas Blixt, Brandt Snedeker, Asian golf's flag bearer, KJ Choi, Gary Woodland and Marc Leishman, who had a share of the first round lead last year.
Choi, one of Asia's superstars, has a best finish of third, and is now playing in his 12th Masters.
There were other prodigious players at 71 like the 20-year-old Jordan Spieth from Texas, two-time Major winner, Rory McIlroy, 54-year-old veteran Fred Couples, whose streak of 23 'made cuts' between 1983 and 2007, still stands.
Before this Masters, Haas took a tough call and 'fired' his brother, Jay Haas Jr., who had been his caddie and instead opted for Scott Gneisher, who was on the bag for David Toms, when he won the 2001 PGA Championships.
Haas downplayed the 'sacking' of his brother, "I needed to switch it up. My brother has been on the bag a bunch for a few years and I think I needed a change."
He added, "It's just nothing -- no certain reason why my brother is not working and why Scotty is working. It's just the way it is right now."
The Haas family has an interesting relationship with the Masters. His great uncle, Bill Goalby won the 1968 edition and his Dad, Jay, led the field through 36 holes and then ended third in 1995.
"He's the person I looked up to the most," Bill said of his father. "He's the person I idolized golf-wise. It was great, loved watching him compete, loved watching him play."
It was not easy scoring out there. There were just four scores in 60s, as compared to 12 last year. "The pins were on the tougher side," said defending champion Scott.
Looking for a good start, Scott seemed to have got just that as he was four-under through 10, before the Amen Corner pulled him down. He splashed into the water on par-3 12th, paid the penalty with a double bogey but managed to collect one more birdie for a 69, which is the lowest first-round score by a defending champion since 2001 when Vijay Singh shot 69.
"It was really how you hope to come out and play at a major – and especially the Masters," Scott said. "I was really solid."
But things did not look too good for the three-time Masters winner, Phil Mickelson, who carded 76, one of his worst rounds here. At 67th place, he could still make the cut as he was eight shots behind the leader. The top 50 and ties plus all within 10 of the leader make the weekend.
Mickelson said, "I had a lot of mental errors and misjudged some shots. I wasn't sharp. I threw away a ton of shots." Be sure, he will make on Friday, for he has not missed a cut in last 16 appearances.
Augusta Diary
Masters is a special place for Haas family
The Augusta National Golf Club is a special place for the Haas family. The first round leader, Bill Haas, asked about the special place this event has, said, "My great uncle, my dad's uncle, Bob Goalby, won the Masters in 1968, and I think it's been a special place in our family since then. Obviously my dad (Jay Haas) — I asked him last night, he said he played 22 times here.
"We came down here, I don't know if — we might have missed a handful of them over the years, but we came most of the years. I remember like it was yesterday, he said it was 20 years ago he finished third and it does not seem that long ago. I remember a lot of the shots he hit coming down the stretch. Probably the age, too, I was starting to play golf, and so I think I enjoyed it more. I appreciated it probably."
"So yeah, for the family, my Uncle Jerry, his brother, has competed in a couple Masters; and my Uncle Dillard Pruitt, he won on tour — I'm almost positive he played one Masters, maybe two. That's my mom's brother." Pruitt played two Masters and finished tied 13th in 1992.
Father and son on opposite ends
While Bill Haas is trying to go one better than his father, the Stadler, Craig and Kevin became the first father-son duo to tee off at the same Masters. But they had contrasting fortunes. The 34-year Kevin making his Masters debut shot 70 and was lying tied fifth in pretty good company. He was two behind the leader, Bill Haas and just one behind the winners of the last two editions of the Masters, Bubba Watson (2012) and Adam Scott (2013). Kevin said, "I'll take 2-under all day, every day," he said. "I'll never get tired of it."
His 60-year-old dad, Craig, called 'Walrus' because of his distinctive moustache, had a tough day with an 82.
Rookies do well
Stephen Gallacher had the best explanation for rookies doing well on the opening day. "Maybe no bad memories," he quipped with a smile. Bang on. Gallacher was one of the five rookies shooting under-par.
There are 24 rookies in a field of 97 — a fraction under 25 % — and five of the 20 players who came back with red figures were first-timers — exactly 25 %. So the average has been maintained. That suggests they will not only be around over the weekend, but some could even contend.
Jonas Blixt and Jimmy Walker stood out in the Rookies division, as Blixt took early lead at four-under, but finally ended at two-under 70. Walker looked like making and early exit, before a four-birdie streak brought him back into the picture at tied fifth alongside Blixt and a few others, who have been here before.
Three other rookies, Stephen Gallacher from Scotland, Jordan Spieth, of whom a lot of expected, and Kevin Stadler, shot one-under.
Ice Storm too a little more than Ike's Tree
The Eisenhower tree, according to keen watchers of the Masters, may not have been the only victim of the ice storm in February. Ike's Tree is as high-profile any tree can be, but as Mark O'Meara, a veteran of the Masters, and a winner here in 1998, noted, ""I think that certainly from the ice storm, it's affected the whole Southeast," said Mark O'Meara, a veteran of 30 Masters and the 1998 Masters champion. "I think that certainly from the ice storm, it's affected the whole southeast, the trees are thinned a little bit, but the golf course is still a great golf course and a great test." O'Meara, who shot 75, added, "(The) 17 certainly is quite a bit easier. It's not an easy hole by any means, because it's still long."
Pine tree tops and branches are missing after the February ice storm, which caused thinner tree lines in some places along the course.