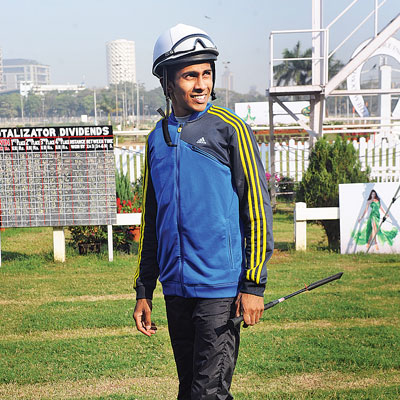 How much can one continue to love his job? Can the love remain even after being crushed by a 550 kg horse? Can it inspire one to undergo multiple surgeries, months of recuperation and then get back and ride the same animal in a race?
Yes, being a jockey isn't easy. "You have to really love the sport. It's not something that you just take up as a profession. Those who don't love the sport, will never make it big. Everyone involved in the sport is there because they love it," says 23-year-old Sreekanth B, who'll be riding Southern Emperor for the Indian Derby on Sunday.
Apart from managing the adrenaline rush and the G-force that goes with riding a horse, the toughest challenge for a jockey, according to Sreekanth, is maintaining body weight. A jockey has to ideally weigh between 53-57 kg, depending on his height. And it's one field where being tall can be a real disadvantage.
"I'm 5ft 10inches, which actually makes me one of the taller jockeys. Because of my height, I cannot weigh more than 53kgs. So I would say that being tall is like a curse for a jockey," says Sreekanth.
So how does he maintain his diet? "I just have a lot of fibre, less of carbohydrates and no fat whatsoever. Sometimes I just have water."
A tough exercise regimen helps him keep fit. "We train the horses from 6am to 8am. That helps us lose plenty of calories. After the workout, we check our weight and if it isn't enough, we either go swimming or work out with the horse again in the evening."
Pushing limits is something jockeys are accustomed to, literally. "Sometimes, we'll be starving and still we have to ride. We barely have any energy left, but that's our job so we have no other choice."
Sreekanth started riding at the age of 13 and got his license at 17, making him the youngest jockey in the country at that time. "As a kid, I used to visit the stables with my maternal uncle, who was a race-horse trainer. It's difficult to explain the connect I have with the horses. And when I first sat on a horse, I knew I wanted to grow up amongst them."