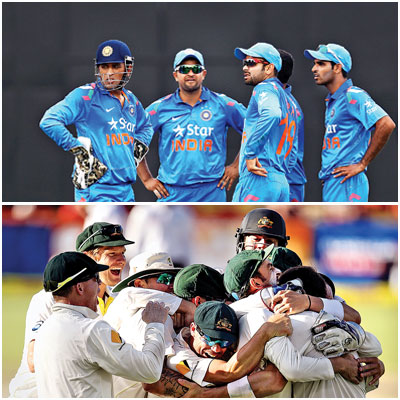 It wasn't too long ago – seven months to be precise – that Australia were facing the same predicament that the Indian team does right now.
Michael Clarke and his boys had a horrendous tour of India in March last year, with a 4-0 drubbing and the infamous homeworkgate. Then came the ICC Champions Trophy in June, where they crashed out without winning a single game, while India went on to win it. The Ashes beckoned in England, and a 3-0 scoreline completed their misery.
Cut to March 2014. Australia are now the No. 1 ODI team in the world, and have displaced India to second in the Test rankings after a 5-0 whitewash in the return Ashes, and a 2-1 series win over South Africa in their own backyard.
India, meanwhile, have gone on a free-fall in these seven months, returning without a single win from South Africa and New Zealand, before a disappointing Asia Cup outing. In short, their fate is much like the Aussies' was seven months ago.
So how did the Australians turn it around, and, more importantly, what can India learn from them to kickstart a similar revival going into the all-important World Cup next year?
"It's simple, Australians had a vision," TA Sekar, former India pacer, said. "They had the Argus report after their debacles, and they went by that report. What plans does our board (BCCI) have for the World Cup, or for the next couple of years, no one knows."
A case in point of Australia's clarity in thought came in the third Test against South Africa, when Peter Siddle, who was part of the pace trio that ripped apart the English batsman, was dropped after clearly being told by the management to regain his pace.
"The requirements are very clear in Australia, and the players know what is expected of them. Over here, why is an Umesh Yadav, who can bowl 145kph, not playing? Again, no one knows," Sekar said.
A lot of credit for getting Australia back to winning ways has gone to their coach Darren Lehmann, who replaced South African Mickey Arthur days before their Ashes campaign in England. The BCCI has stuck to the non-performing Duncan Fletcher, apparently because the World Cup is just a year away. That, according to Sekar, shows the amount of guts Cricket Australia (CA) had to make the bold changes.
"Where is the accountability of our coaches? What is the bowling coach doing with our bowlers? Our system of identifying coaches is wrong and there are a lot of questions to be answered," Sekar added.
Kiran More, former national selector, had similar views, and felt the BCCI should not be averse to getting a new coach.
"Change is always good," he said. "When nothing is working for you, you should look for something else, someone who can bring in different ideas," More said.
Brett Lee, the former Aussie fast bowler, threw some light on why getting Lehmann into the Australian set-up was a masterstroke.
"Lehmann is a type of person that makes the players feel very comfortable. He'll tell a young batsman that you have at least three or four matches to go out there and show us what you have – you're not going to get just one match. That makes the player feel very comfortable," he said.
Wouldn't a Stuart Binny love to hear that? The all-rounder was dropped from the team after just a match, and, that too, twice – in New Zealand and Bangladesh. Amit Mishra has had to serve drinks for almost an eternity till he finally got a game.
"I'm a firm believer in trying out new players," More said. "If you want to build a team, you have to make the young players play. Cheteshwar Pujara and Ishwar Pandey should've been tried out in Bangladesh.
Pandey could be the answer to our fast bowling concerns."
He might very well be. But the team management played the same team against the Afghans in the name of "continuity", something the Australians didn't bother about. For, after clinching their five-match ODI series against England in January in the third game itself, their think-tank decided to rest their senior pros and gave the likes of Steve Smith and Matthew Wade a go.
"Australia don't care about rankings. If a series result has already been decided, they will try out new players," Sekar said.
He went on: "What is more important for India – winning an Asia Cup match or finding a 145kph bowler for the next one or two years?"
And the revival of Australian team answers that question for the beleaguered Indians.