Former champ Binning Lyngkhoi bags the Indian men's full marathon title but says his timing could have been better, Lalita Babbar claims women's crown.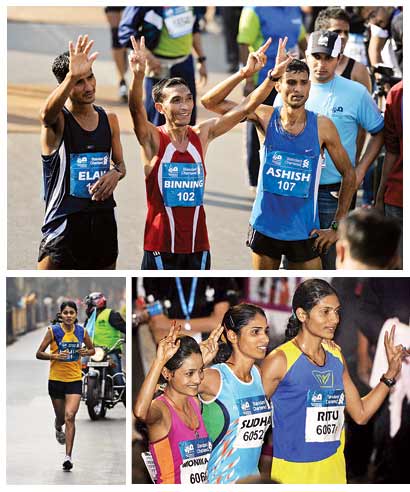 The real marathon begins after the 30km mark when the leader breaks away from the pace makers and takes rapid strides to the finishing tape. We understand why the absence of London Olympian Ram Singh Yadav was sorely felt on Sunday. But who was the Indian favourite among men at the Mumbai marathon? We should think Elam Singh, runner-up to Yadav in 2012.
Who won eventually? It's someone whose name doesn't roll off the tongue easily. Try pronouncing Binning Lyngkhoi. He is an army man who stopped the watch at 2:21.51. For the uninitiated, he was the best Indian finisher in 2010 and 2011 too. "I'm not happy with my timing. I've done better before,"said Lyngkhoi, who slowed down a bit at the half-way stage but gathered momentum in the last 10km.
Elam, who finished third (after Lyngkhoi and Ashish Singh), said, "If Ram Singh was there, the result would have been different. I felt his absence."
In the women's field, Lalita Babbar finished at 2:53.42, followed by Vijay Mala Patil and Rohini Raut. Patil was disappointed that Babbar missed her own record by seven seconds. Patil said, "Till the 35km mark, Lalita and I were encouraging each other. But at that stage, I did not want Lalita to ruin her timing by taking me along." Raut, daughter of a truck driver from Nagpur, was taking part in her first full marathon.