Dhoni's replacement says he is not scarred by Team India's results in South Africa, New Zealand.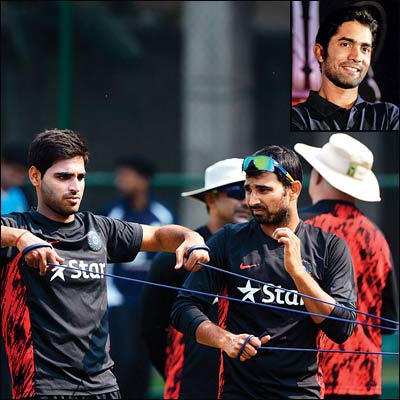 Dinesh Karthik has an intimate sense of humour. For someone who always has a pleasant smile on his face, that's not surprising. Pressed into service after injury to MS Dhoni, the wicketkeeper-batsman from Tamil Nadu called himself an "outsider" on Tuesday.
Well, he is not entirely wrong. With just 67 ODI appearances in nearly 10 years, Karthik has forever remained India's second- or third-choice stumper. The last time he represented the country in 50-over cricket was in Zimbabwe more than six months ago. And Test cricket? Don't even ask. It was in January 2010.
Karthik, who recently hit the jackpot when Delhi Daredevils bought him for a whopping Rs 12.5 crore at the IPL auction, told reporters in Mirpur on Tuesday that he can add a bit of freshness to India's Asia Cup campaign. It's been a while since India won a game of cricket. Blanked in South Africa and, then, in New Zealand, the Men in Blue will start their Asia Cup campaign against Bangladesh at the Khan Shaheb Osman Ali Stadium in Fatullah.
Understandably, the agile cricketer said he is not scarred by the recent results. "I got to know about three-four days back (that I have been picked). I guess I'm used to it now being called so many times. It doesn't play on my mind too much," Karthik said after the team's practice at the Sher-e-Bangla National Cricket Stadium in Mirpur.
"For me it's about coming out here. It's important to get into the zone just before the game. Obviously, as a player, I'm very excited to be a part of this Indian cricket team. It's one of the best teams available. For me, it's an honour to represent India and do the best that I can," he added.
Ask him about India's winless run, Karthik came up with a straightforward answer. "Actually, you should have asked this question to somebody who was a part of these eight ODIs. From an outsider point of view, I'm coming into this team fresh. As an individual, I can talk of my perspective and say that for me it's going to be exciting. I'm sure it's the same for all the players. But somebody who has played those eight games will answer this question much better."
Karthik went on to add that the team has an exciting bunch of youngsters who would be keen to do well. "Definitely, it's a big tournament for all of us. It's going to be exciting for all the young players in the team, so we all are really looking forward to it."
Team India are without Yuvraj Singh and Suresh Raina, but Karthik is of the opinion that the others can get the job done. "I've been around for some time. Given the opportunity, I will try and use whatever little experience I've had and bat to the best of my ability. Having said that, quite a few guys have played 100 games which is a lot of experience now. They have been playing now for a year or two. They have been given a good run. Obviously everybody will pull in their experience whatever little that we have, go out there and give it our best shot," he added.