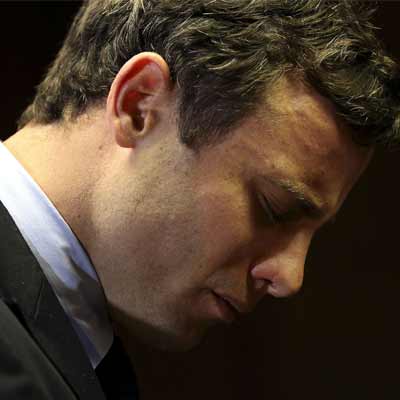 Paralympic champion Oscar Pistorius is reportedly dating a teenaged college student while awaiting trial for the murder of model Reeva Steenkamp on Valentine's Day last year.
The double-amputee Blade Runner reportedly wears a disguise to avoid detection when he goes out with 19-year-old Leah Skye Malan, who is studying to be a paramedic.
According to News.com.au, Malan is believed to be the first woman Pistorius has dated since Steenkamp's death and Pistorius met the student in December in Mozambique, where the teenager was vacationing with her parents and younger brother.
A source said that both Malan and Pistorius seem 'really into each other', adding that she has supported the Paralympic sprinter through his 'difficult times' and introduced him to her family, who have also embraced him.
Pistorius has visited the Malan family's farmhouse near Potchefstroom, two hours from Johannesburg, the report added.