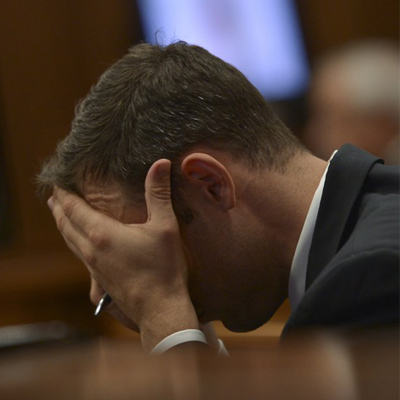 Paralympic sprinter Oscar Pistorius had reportedly covered his eyes after a photo showing blood smears on his toilet floor was displayed during his murder trial in the North Gauteng High Court in Pretoria on Wednesday.
The Blade Runner tried to break open the door of his toilet on Valentine's Day last year with a cricket bat after he shot and killed his model girlfriend Reeva Steenkamp through it, claiming that he thought she was in intruder.
According to News24, a photo showing a section of a wooden door panel and a large blood smear on the tiled floor next to it was displayed while evidence relating to the toilet door through which Pistorius shot Steenkamp was discussed.
The report mentioned that Pistorius was unable to look at the image and kept his right hand over his eyes until it was replaced by another photo.
Pistorius is also charged with illegal possession of a firearm and ammunition, and two counts of discharging a firearm in public, the report added.