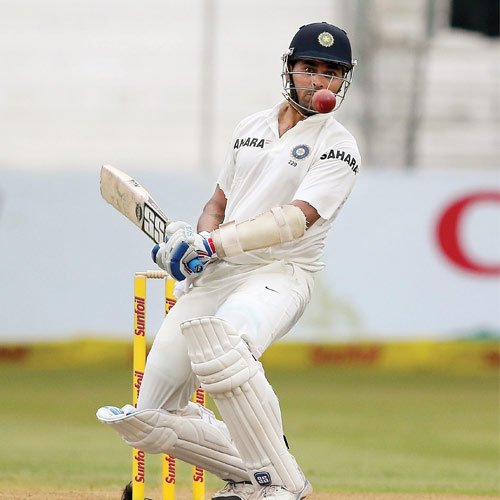 No rose petals, no wax statue, no painting, no preview segment, no gold-plated coin at the toss, no guard of honour, no silver plaque, no autographed shirt and no standing ovation. All the great man got prior to the start of his final Test was a 50-yard head-start when the Proteas jogged onto the field on Thursday. Jacques Kallis's response was all too measured: a sincere doffing of the hat and a cursory wave of the hand. That was that. The remainder of the day belonged to India.
How couldn't it? The pitch was there for all to see. It was more Delhi than Durban. And expectedly, the visitors made merry. If not for dark clouds and bad light, which prompted the umpires to halt play shortly after tea on Day One of the second Test, and later call it off, India would have been in a much better position. Not that their performance –– 181/1 off 61 overs –– was poor. Anything but.
The star of the day was M Vijay, who took the very same route he had at the Wanderers. Only this time, he didn't give up after a session of grinding and grafting. Instead, he batted on. The result: a polished 91 off 201 deliveries.
Keeping him company for all but 13.1 overs was Cheteshwar Pujara, who is now seeing the red Kookaburra like a football. With 58 to his name, the No. 3 batsman is making this series his own.
Together they added 141 runs after Morne Morkel, who recovered just in time for the series decider, got rid of Shikhar Dhawan for 29.
If nothing, MS Dhoni will be pleased with his 100 per cent record at the toss on this tour. His decision to bat was a given and the openers started positively. That the pitch offered no swing or lateral movement only helped their cause. It was blistering hot Boxing Day.
The other hot news was that R Ashwin's overseas failures finally caught up with him. Ravindra Jadeja took his place. South Africa dumped Imran Tahir and brought in Robin Peterson.
Dhawan got going by punching an over-pitched Dale Steyn down the ground. Vijay, too, drove the world's fastest bowler to collect the first of his 17 boundaries. Both Steyn and Vernon Philander were guilty of realising a little too late that they were operating on a batsman's paradise. Seven overs into the match, skipper Graeme Smith brought Morkel on.
Proving that he was in top shape, Morkel started off with a length ball that clocked 143.6 kph.
Dhawan left it alone. That's how the Indians dealt with bouncers too. Dhawan was clearly the aggressive of the two and he scored three more boundaries before Morkel, bowling from round the wicket, had the left-hander caught at third slip. It was the first ball after drinks. So after returns of 13 and 15 in Johannesburg, Dhawan perished for 29.
Vijay was always on the alert, and even though he was troubled, hit on the abdomen guard and what not, he carried on. Pujara took 31 balls to get his first boundary, the right-hander working a delivery from left-arm spinner Peterson to the on side. In the two overs he bowled before lunch, Peterson looked ordinary. India went into the break with the scoreboard reading 76/1 after 26 overs.
The period after lunch saw India wrest the initiative. Pujara used his wrists to good effect once again, this time hitting Steyn to the square-leg fence. Another over-pitched delivery from Steyn, another four to Pujara: this one bringing up the 50-run partnership. By now Vijay, who had scored 34 to Pujara's 30, had decided to take off. Consecutive boundaries off Philander took him into the 40s and India past the 100-run mark. Steyn did get some reverse swing, but Vijay and Pujara were watchful all along.
Vijay brought up his fifty with his 11th four, this time off Kallis. South Africa were never there and with a generous helping of full-tosses from Peterson, India motored on. At tea, Vijay was on 76, Pujara 55 and India 163/1. Eight overs into the final session, the clouds chose to ruin what was India's day.