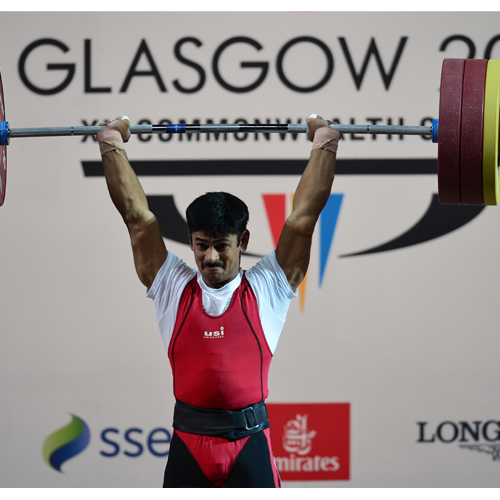 Omkar Otari won a bronze in the men's 69kg competition to continue India's strong show in weightlifting at the 20th Commonwealth Games here today.
26-year-old Otari was leading at the halfway stage but his disappointing show at the clean and jerk cost him a better medal as he was taken over by Mohd Hafifi Mansor of Malaysia and Yinka Ayenuwa of Nigeria. Mansor won the gold with a lift of 305kg (135+170) while Yinka bagged the silver with an aggregate of 301kg (130+171). Otari lifted a total of 296kg (136+160). He had lifted 296kg (135+161) while winning the National Championships.
It was a competition between Otari and Commonwealth Championships winner Mansor of Malysia at the snatch stage. Otari began his snatch with 130kg and then went on to lift 134kg and 136kg in his next two attempts. Mansor started at 135kg but could not lift 137kg in his next two attempts to concede the lead to Otari.
In the clean and jerk, Otari began with a 155kg and then went on to lift 160kg in his second attempt. But, surprisingly, he decided to go for an attempt of 162kg even before Mansor had begun his clean and jerk. The Indian failed in his attempt and that gave a clear advantage to the Malaysian. Mansor kept his starting weight in clean and jerk very high and started at 166kg which he easily lifted in his first attempt to jump to the top spot. Yinka was successful in his attempt for 166kg to equal Otari on 296kg but went on to lift 171kg to bag the silver.
Mansor, who had also won a bronze in this categroy in the 2010 Delhi CWG, had lifted 307kg (138+169) while bagging gold in the Commonwealth Championships last year.
With today's bronze, India have won six medals (2, 1, 3) from weightlifting so far. India had won two gold, one silver and one bronze on the opening day on Thursday before adding another bronze yesterday.
Meanwhile, Meena Kumari finished fifth in women's 58kg with a total lift of 194kg (83+111).