Comeback man Zaheer Khan not only picks up wickets but guides youngsters too, and the effect is there for all to see.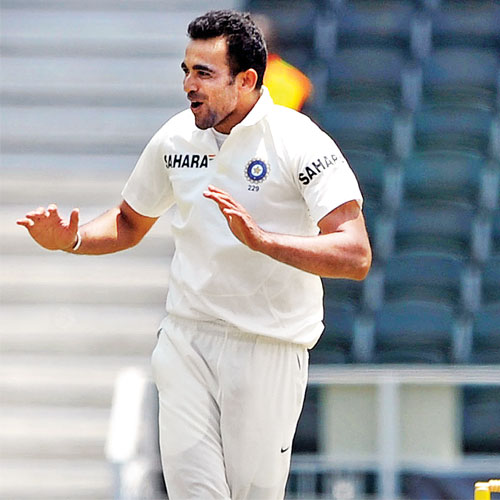 Here's a trivia question: who is the only player in the 17-member Indian squad without a central contract? Well, it's the man who returned figures of 26.3-6-88-4 in the first innings.
That the visitors managed to prise out the four remaining South African wickets in less than 10 overs on the third morning had to do a lot with Zaheer Khan and his experience. Bowling from the Corlett Drive End –– Shaun Pollock's favourite, according to Makhaya Ntini –– the left-armer raced from 296 to 299 Test scalps in a matter of 5.3 overs. The result: India obtained a lead of 36, worth its weight in gold.
Playing his first Test match in over a year, Khan's comeback can only be described as fruitful. Fit as a fiddle after rehab and conditioning stints in France and Bloemfontein, the 35-year-old did the hard yards by turning out for India 'A' against the West Indies 'A' before leading Mumbai in four Ranji Trophy matches.
Back in his role as the commander of the Test attack, Khan has been on the money in the first Test. By far the senior-most player in the side –– both in terms of age and Test appearances –– he has the knack of nurturing young bowlers. Wait and watch how Mohammed Shami improves under his wings. And Ishant Sharma: well, you've already seen the change. Be it rapping them on the knuckles when they make their own bowling plans to helping set fields, Khan is always there. No one, not even MS Dhoni, meddles in his work.
Operating from round the wicket to the overnight pair of right-handers, Faf du Plessis and Vernon Philander, Khan persisted with an off-stump line and made the old ball angle marginally away. He was rewarded immediately. Philander, who had brought up his fifty on the first ball of the day with a back-foot punch off Ishant Sharma, had no answer to this one from Khan. And thank God, R Ashwin held on to the edge this time.
Dale Steyn was in no mood to hang in there and he upset Khan's rhythm by collecting back-to-back boundaries in the next over. But soon, Ishant Sharma completed his four-for by having him caught at slip with Rohit Sharma making up for Wednesday's blunder.
After testing du Plessis's patience with four straight dots, Khan bowled a length ball which the batsman promptly nicked through to MS Dhoni. Morne Morkel made the big mistake of treating a full-length delivery with contempt. Yes, he got a boundary but Khan was irked. The very next ball, he drew the curtain on South Africa's innings with a yorker that crashed into the base of off stump.
The architect of many an Indian win, especially on foreign shores, Khan knows what it takes to win in South Africa. His performances in those famous wins achieved in Johannesburg (2006) and Durban (2010) were precious. Who knows, Friday's three-wicket burst could lead to another memorable triumph.