They may be tennis aces but the Serb and Scot are duds at taking selfies it seems.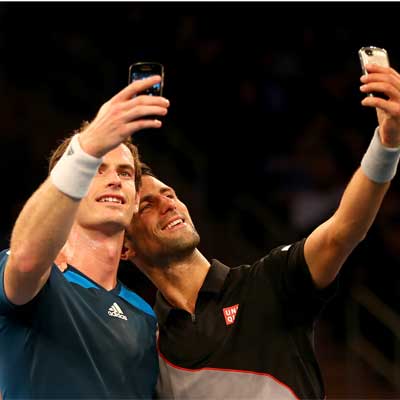 Tennis stars Novak Djokovic and Andy Murray came together to celebrate World Tennis Day by playing an exhibition match at Madison Square Garden. In the match, Murray lost to Djokovic 6-3, 7-6(1) after which the duo posed for a selfie.
Interestingly, while the world has millions of selfie fans who excel at clicking their own picture, the Serb and Scot couldn't click a clear selfie. The Oscars has ensured that selfie becomes the buzz word this week thanks to Ellen DeGeneres's tweet that became the world's most RTed tweet.
Meryl Streep, Julia Roberts, Bradley Cooper, Jennifer Lawrence, Brad Pitt, Kevin Spacey, Channing Tatum, Julia Roberts, Angelina Jolie, Jared Leto, Lupita Nyong'o and her brother the tweet has garnered a lot of attention.
The tennis champions had many light moments during the match as they joked while they played, did push ups and even had a challenge moment though none were available in the match.
Both Djokovic and Murray took to their Twitter accounts to share the selfie.
Here is Novak Djokovic's selfie, which was blurry and showed the World No2 kissing a smiling Andy Murray,
Kind a cute,right? :-) #bnpparibasshowdown. NYC-MSG.. love it! pic.twitter.com/KCIM44H4FA

— Novak Djokovic (@DjokerNole) March 4, 2014
In Murray's selfie, the picture is much clearer but the Scot has cut his face out while Djokovic is well seen. Here's the tweet,
With @djokernole playing at Madison square garden #selfie pic.twitter.com/uiGGimu5XS

— Andy Murray (@andy_murray) March 4, 2014