Indian skipper Dhoni says his bowlers are learning from mistakes while batsmen need to get shot selection right.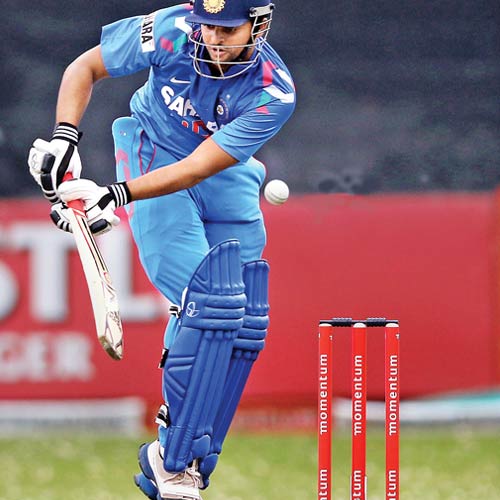 This is what it's come to, then. Minutes after his team suffered a second straight thrashing at the hands of South Africa at Kingsmead in Durban on Sunday, MS Dhoni praised his bowlers for doing "a fantastic job, especially in the middle overs". The skipper conveniently chose to ignore the fact that India conceded a whopping 280 and then got bowled out for 146 in 35.1 overs.
Curiously, none of the frontline bowlers completed their quota of 10 overs. Umesh Yadav and Ishant Sharma, who were included in the side for their ability to bowl quick, bowled six and seven overs, respectively, and together conceded 83 runs. And as was the case in the first ODI at the Wanderers, Mohammed Shami was the only pace bowler who looked the part, the Bengal right-armer claiming 3/48 off eight overs.
Dhoni blamed the batsmen for the Durban loss. And rightly so. You just can't chase down 359 and 281 if your openers don't fire. Both Shikhar Dhawan and Rohit Sharma have struggled to come to terms with life on the pacy and bouncy pitches here. "If you talk about this particular game, I think the kind of shots we played (cost the team dear). A few of them were on, but the execution was not great as the ball went straight to the fielders," Dhoni said.
We are just a week into the sojourn and India have already lost the ODI series. They will head to the SuperSport Park in Centurion on Wednesday, hoping to avoid a clean sweep. So is it all downhill for the visitors? "Not really," Dhoni said. "This is part and parcel of any series that you play: you win quite a few and you lose quite a few. What's important is that you keep learning. The bowlers learnt from the mistakes they committed in the first game and bowled better in this game.
As a batting unit, we need to learn quite a few things."
Dhoni also pointed out that India weren't troubled by the short ball as is perceived. "I don't think it was the short ball. It was more to do with shot selection and execution. This wicket was on the flatter side and there was hardly any pace in it," he said.
A major factor behind India's six straight ODI trophy triumphs was the great starts provided by the openers. Interestingly, South Africa are taking the same route, with Quinton de Kock and Hashim Amla posting 158 and 194, respectively, in this series. "Going by the way they were batting in the first 20 overs, I thought we may end up chasing another 300-plus score. But we bowled well in the middle overs," Dhoni opined.
The skipper said that this performance is a one-off. "Well you can consider this as a one-off series," he remarked. "Yes, we didn't bat really well, but it can happen. Especially when you come outside and you see that the middle-order is not performing, you may get a bit exposed if you lose early wickets at the top. In the last few series, our middle order, to some extent, was a bit of a bother. In this series, we lost the top three maybe quite early and our middle order was exposed to some extent. So if you assess that, maybe because of that we haven't been able to perform to our potential, especially in the batting department."
Sir Viv more deserving: Amla
South African batsman Hashim Amla said he was "a bit embarrassed" to have overtaken West Indian legend Sir Viv Richards' record of being the quickest batsman to reach the 4000-run mark in ODIs. During his knock of 100 runs in the second one-dayer against India, Amla became the quickest batsman to score 4000 ODI runs. He achieved this feat at the personal score of 59 runs, in 81 matches, ahead of the 88-marker set by Richards. "I am grateful for the record. But I feel a bit embarrassed to have it because Sir Viv Richards is certainly the master blaster, the original great batsman," said Amla, rather sheepishly. "He is more deserving than anyone else. Fortunately I have met him on a few occasions, so it makes it even more embarrassing. It would be befitting if he was ahead."