The ad plays the fantasy of the Brazilian football stars as it goes to prove nobody plays the beautiful game like Brazil.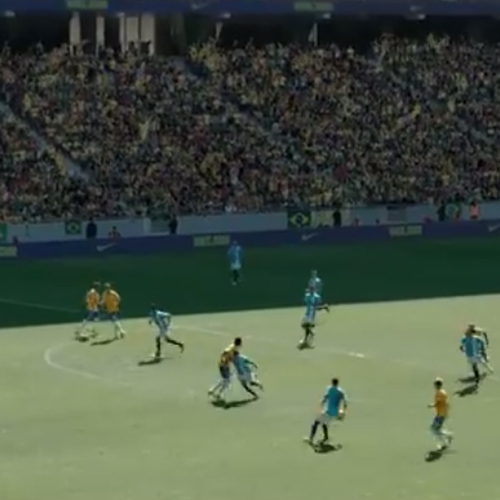 With the 2014 football World Cup draw set to be announced soon, Nike launched its new ad featuring Neymar, David Luiz, Ronaldo and Luis Felipe Scolari and the crowd.
The ad called, Dare to be Brasilian was uploaded on Nike Football's YouTube channel on December 1, 2013 and shows the Brazilian football team as the superpower of the game.
The stadiums may not be ready but the spirit of the teams an fans is intact in a country where football is a religion.
The feats of Brazilian football is creatively outlined as the top players of the 2014 squad are seen being transported to a fantasy world as they play the game they love, the way they love to.
The Brazilian national anthem is sung at the start of the ad just as anthems play before any match at the World Cup, as the game starts the ad frame moves from the pitch to Thiago Silva's world, shot in a gangster-noir style. Silva is established as 'The Godfather' of the penalty box with him stealing the ball from his opponent.
David Luiz is shown taking anime and cartoon form as a giant super hero, running over his competition in a stunning animation captured by Brazilian cartoonist Rafael Grampa. That part of the ad is much like Dragon Ball Z's Goku in Super Saiyan mode.
Team manager Luis Felipe Scolari who is well-known as a man who brings a fatherly style of management is shown in the ad shouting instructions from the base line to a team of four-year-old's as Luiz changes from a lost little boy into an all-action giant who clears the ball and scores an awesome goal.
Paulinho, Bernard also feature in the 90-second ad as does Ronaldo, Brazil's biggest star on the World Cup stage.
Neymar is seen playing on the beach - where many youngsters in Brazil play the game first as he scores a superb goal.
There are giant opponents and Samba-style play in the ad that reminds football fans of the Brazilian game that involves magical passes and awesome goals.
Watch the ad: