A total of Rs16 crore was spent to acquire 49 foreign footballers in the international player draft for the inaugural Indian Super League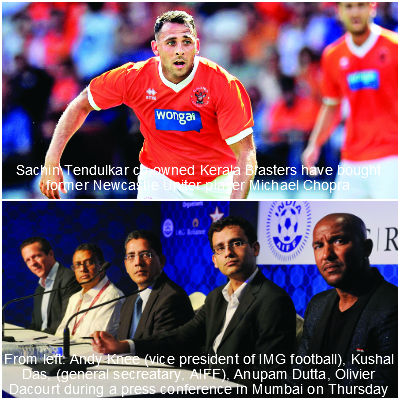 Former Newcastle United forward Michael Chopra was the first player to be chosen in the international player draft of the Indian Super League at a city hotel here on Thursday. He was signed by Kerala Blasters, which is partly owned by Sachin Tendulkar. Chopra was the only English player among the 49 players in the draft.
Former England goalkeeper David James, who is player-manager of the South Indian franchise, said that selecting Chopra was a no-brainer. "When the drafts came up, the first name that caught our attention was that of Chopra," said James. "We immediately decided to pick him up and it's a tremendous achievement to have him in our squad," he added.
James added that the star striker was keen to contribute to the development of football in India. "I spoke to Michael and he expressed his interest in changing his nationality to Indian. He wants to help set up academies and grow football in India. With Chopra's experience and enthusiasm to improve Indian football, we will be able to achieve it. He's a great addition to a wonderful team," said James.
Chopra will get $67,438 per season, according to the franchise.
Other prominent picks included French defender and former Hull City centre-back, Bernard Mendy, and former Manchester United midfielder Bojan Djordjic of Sweden by the Chennai franchise while La Liga veteran Jofre Mateu went to Atletico de Kolkata.
The order of draft picks was decided by draw of lots with the teams choosing from players in pre-decided sets.
Each team required to have one marquee player, seven foreigners and 14 Indians, four of whom must be from the city in which the franchise is based.
Luis Garcia (Atletico de Kolkata), Joan Capdevila (North East United FC) and David Trezeguet (FC Pune City) are some of the marquee players announced so far while other teams are still scouting for big names, which are being paid more than those in the draft. Teams will have squads of 22 with a similar process for Indian players completed last month.
The top four sides will qualify for the semifinals, which will be played over two legs and the winners advance to a one-off final, like in the UEFA Champions League.
The first game of the League will be on October 12 and the final will be on December 20. The schedule will be revealed in a couple of weeks, the organisers said.
In an interesting development, the ISL organisers announced that the Bangalore owner Sun Group has pulled out on grounds of non-feasible operations.
However, Team Chennai will replace the Bangalore franchise. "The eighth team in the ISL is Team Chennai. They will be represented by Prashant Agarwal, the CEO of Kshatriya Sports. They have a collaboration with Inter Milan in India. The owners will be announced at an appropriate time," revealed Anupam Dutta, the newly-appointed ISL CEO.
'I-League hasn't delivered'
Kushal Das, the general secretary of the All India Football Federation (AIFF), has said that the I-League failed to deliver. "I-League has not delivered what it was expected to. We had to think differently. I-League will continue. We needed something about the visibility," said Das.
He highlighted the importance of training at the grassroots. "We want to develop a competitive national team. What ISL is doing is to get involved in a broad-based grassroot. There is a lot of emphasis on this," he added.
Treat to have Capdevila: Herbert
Head coach of North East United FC, Ricki Herbert said that it will be a privilege for him to coach 2010 World Cup winner Capdevila. "To coach Capdeilva would be interesting. In 2009, we played Spain and he played quite well. I think it will be a privilege and it will be a treat for Indian football fans to have him. I am sure he will be the ultimate professional. In my lifetime, it's a pleasure. You have seen him perform week in and week out," said Herbert, who coached the New Zealand team in the 2010 World Cup.
Mumbai coy about coach, marquee players
Officials from the Mumbai franchise of the Indian Super League (ISL) said that they aren't in a position to reveal their coach or their marquee players. "We are in negotiations with coaches and hence, we cannot reveal names," Nishant Mehra, the Football Head of the team said.
Arunava Chaudhuri, the Chief Operating Officer of Team Mumbai, conceded that appointing the coach after selecting the players is not the perfect way to go about. "Of course that's not perfect from our perspective. But we had certain compulsions because of which we had to do this. The coach will have to work with whatever we provide."
Players signed by various teams
ATLETICO DE KOLKATA: Rs2.17 crore
Borja Fernandez
Jofre Mateu González ($58,185)
José Miguel González Rey
Arnal Llibert Conde Carbó
Sylvain Monsoreau
Jakub Podaný
Apoula Edima Edel Bete
TEAM CHENNAI: Rs2.34 cr
Bernard Mendy ($80,000)
Cristian Hidalgo González
Gennaro Bracigliano
Bojan Djordjic ($58,185)
Bruno Augusto Pelissari de Lima
Jairo Andrés Suarez Carvajal
Eduardo Silva Lerma
DELHI DYNAMOS FC: Rs1.62cr
Mads Junker
Morten Skoubo
Bruno Herrero Arias
Gustavo Marmentini dos Santos
Marek ?ech
Pavel Eliáš
Henrique Dinis Oliveira Dias
TEAM GOA: Rs2.46cr
Miroslav Slepi?ka
Jan Šeda
Bruno Filipe Tavares Pinheiro
Youness Bengelloun
Miguel Bruno Pereira Herlein
Grégory Arnolin
Edgar Carvalho Figueira Marcelino
KERALA BLASTERS FC: Rs1.98cr
Michael Chopra
Iain Hume
Víctor Herrero Forcada
Erwin Spitzner
Pedro Adriano Veloso Gusmão
Cédric Hengbart
Raphael Romey
MUMBAI CITY FC: Rs2.10cr
Diego Fernando Nadal
Jan Štohanzl
Francisco Javier Fernández Luque
Pavel ?movš
Johann Letzelter
André Matos Dias Pereira
Ilias Pollalis
NORTH EAST UNITED FC: Rs1.62cr
Isaac Chansa
Cornell Glen
Massamba Lô Sambou
Do Dong-Hyun
Guilherme Felipe de Castro
Republic's TomᚠJosl
Luis Alfredo Yánes Padilla
FC PUNE CITY: Rs1.75cr
Bruno Cirillo
Emanuele Belardi
Iván Bolado Palacios
Saïdou Mady Panandetiguiri
Omar Andres Rodriguez Martinez
Andrés Felipe González Ramírez
Park Kwang-IL
TOTAL AMOUNT SPENT
Rs16 crore for 49 players