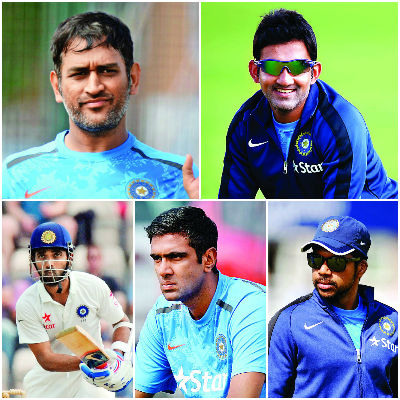 Here are the facts: India have never won a Test match at Old Trafford; England haven't lost here since the turn of the millennium. With the series intriguingly poised at 1-1, it wouldn't be wrong to say that the fourth Test, starting on Thursday, could go a long way in deciding as to who takes the Pataudi Trophy. dna raises six points Dhoni must pay heed to in order to avoid a Southampton-like humbling...
1) Is it time to drop Dhawan?
Going by reports, Shikhar Dhawan, who usually takes guard first up, didn't enjoy that privilege at Team India's training session at Old Trafford on Tuesday. What's more, it was his opening partner, M Vijay, who stood at first slip to receive coach Duncan Fletcher's customary 'edges'. With returns of 12, 29, 7, 31, 6 and 37 in three Tests, Dhawan has been found wanting on English soil. Yes, he is just 10 Tests old, and has two hundreds to show, but the fact is that he needs some time off. Apparently, that's the view of the team management too.
2) Who will replace Dhawan?
Senior hand Gautam Gambhir, who last played a Test match in December 2012, batted for a fairly long time. And it's more than likely that he will open the batting with Vijay in the fourth Test starting on Thursday. Apart from Dhawan's poor returns, what's hurting India even more is that he and Vijay haven't added a 50-run stand outside the subcontinent.
3) What makes Rahane a candidate for promotion?
Batting at No. 5, Ajinkya Rahane has scored just 20 runs fewer than Cheteshwar Pujara and Virat Kohli put together. Which brings us to the question: doesn't the team's in-form batsman deserve a promotion? Rewind to the 2000s. How many times did VVS Laxman take Rahul Dravid's No. 3 spot? That epic outing at the Eden in 2001 was just one of the many instances where Laxman walked in ahead of his more established teammate. With the openers lasting 8-10 overs on an average, it would be a smart thing to send Rahane up the order.
4) Why is Ashwin cooling his heels?
The curators in England have dished out, arguably, the driest of pitches for this series. The debate over Ravindra Jadeja's utility as a Test player, or an all-rounder for that matter, ceases to end. Nor does the talk of skewed returns from Rohit Sharma's willow. Indications are that R Ashwin, till recently a villain for his ineffectiveness on foreign pitches, is set to replace one of the two. Moeen Ali's success in Southampton may have prompted India to give Ashwin a go. The Tamil Nadu off-spinner, who is more than a handful with the bat and effective in the slips, deserves a chance. Yes, he was virtually impotent in South Africa where he failed to get a breakthrough on Day Five of the first Test in Johannesburg, a contest India should have won. But Ashwin is a smart, thinking cricketer. Let's hope he's ironed out his flaws and given up on that needless start-stop delivery stride.
5) Shouldn't Aaron get a look-in?
When Sourav Ganguly talks, everyone listens. The former India skipper has called for inclusion of pacer Varun Aaron for the fourth Test. "Manchester has the fastest wicket in England. I think Varun Aaron should get a look-in," Ganguly said. Given that Lord's hero Ishant Sharma has been ruled out of the game and workhorse Bhuvneshwar Kumar stll recovering from a swollen ankle, India badly need an injection of pace. Remember Mohammed Shami has looked ineffective thus far. And poor Pankaj Singh must be deflated after a luckless debut.
6) Why is Dhoni not playing five bowlers?
Prior to the start of the series, the question on everyone's lips was: who'll win the battle of the defences? Both MS Dhoni and Alastair Cook are known to be notoriously defensive in their approach. They just refuse to go for the kill. After the dull draw at Trent Bridge, it was Dhoni who shed his inhibitions by ordering Ishant Sharma to dig it short on that fateful afternoon at Lord's. The result: India ended 28 years of pain by triumphing at the spiritual home of cricket. Yes, the four-bowler theory worked on that occasion, but that doesn't mean it should be the norm. Dhoni must find a way to play five bowlers. With Ishant out, Cook & Co. hit back right away, scripting an emphatic 266-run victory at the Rose Bowl. With a long injury list, India are clearly on the back foot. Can Dhoni find his mojo once again?