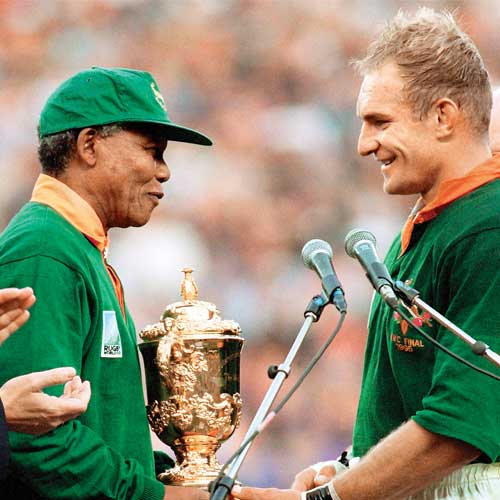 Sport has the power to change the world. It has the power to inspire. It has the power to unite people in a way that little else does. It speaks to youth in a language they understand. Sport can create hope where once there was only despair. It is more powerful than governments in breaking down racial barriers. It laughs in the face of all types of discrimination.
— Nelson Mandela, 2000
You've watched Invictus, haven't you? If you haven't, then do so immediately. A Clint Eastwood gem starring Morgan Freeman and Matt Damon, it will give you a fair idea of how Nelson Mandela saved a nation from the clutches of hatred, disintegration and anonymity.
Long before India and Pakistan engaged in several rounds of cricket diplomacy with fleeting levels of success, Mandela used rugby, the white man's game, to create a 'Rainbow Nation'. The year was 1995 and South Africa were hosting the World Cup. The Springboks were a talented bunch, but no one quite expected them to rule the universe. But they did and how!
Francois Pienaar, the man who led South Africa to glory in that nation-defining tournament, recalls his meeting with Mandela with a lot of fondness. "It was an absolute privilege to meet Mr Mandela. I first met him in 1994 when he became president of South Africa," says Pienaar, 43 and employed with a bank.
Mandela summoned Pienaar to his office and conveyed to him that the nation would love to see the Springboks win the World Cup. He then advised them to go on a tour of the country, especially regions dominated by blacks, to win hearts. Pienaar and his boys did as they were told. The presence of Chester Williams, the only black player in the team, helped matters. Soon, the Springboks were the toast of the nation. "He is the greatest leader the world has ever seen," Pienaar says. "It is very emotional day for me and my family, although we were expecting it."
Pienaar chokes a little while talking about that historic day. An inspired South Africa beat the mighty All Blacks (New Zealand) and their intimidating 'Haka' (Maori war dance) to stun the world. Mandela, who sported Pienaar's No. 6 jersey, was the real winner, though. "He wore my jersey.
And then he uttered the nicest words when I walked up to the podium to receive the World Cup.
'Thank you, Francois, for what you have done for the country', he told me. 'No, Madiba, you've got it wrong. Thank you for what you've done for South Africa', I replied. But for his forgiveness and reconciliatory methods, we would not have had the country behind us."
Rugby wasn't the only sport that Mandela held close to his heart. He also embraced cricket, football and athletics. It is common knowledge that South Africa won the rights to host the 2010 FIFA World Cup because Mandela endorsed their bid. They had lost out to Germany four years earlier. "At least we have reason to drink now," he had said then.
Shaun Pollock, the former cricket captain, is also a big admirer of Mandela. "He used to phone me regularly. He was very passionate about sport. His demise is a personal loss," Pollock says. "I first met Mr Mandela at the Wanderers early in my career. He then watched a match during the 2003 World Cup. And after we crashed out, he rang me again to say he was proud of the way I handled the team. Of course, I had chosen to step down from the captaincy by then. He also wished me on my wedding day. He used the power of sport to unite the nation. A great leader, there will not be another like him," Pollock adds.