Yusuf Pathan says he is confident of comeback to national side after good run in domestic season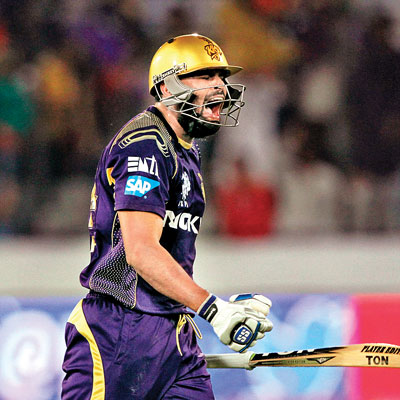 Ever since Kolkata Knight Riders lifted the IPL trophy on Sunday, every cricket enthusiast, analyst, expert, and indeed the players themselves, has tried to explain what lies behind the spectacular turnaround of a team that looked nowhere close to getting to the play-offs after the UAE leg, let alone win the title.
Was it Robin Uthappa's dream run with the bat at the top of the order? Was it skipper Gautam Gambhir's return to form? Was it the loss to Rajasthan Royals where they lost six wickets for two runs that had every player hurting?
Yusuf Pathan believes he played a big part in KKR clinching that coveted trophy for the second time on that glittering night in Bangalore.
"The turning point came in that match against Sunrisers Hyderabad at home, in which I played that crucial knock," Pathan told dna on Thursday.
Crucial might be an understatement. It was a knock that left arguably the world's best fast bowler at present, Dale Steyn, simply stunned. It was a knock that came from nowhere, almost to make a statement: 'Dare write me off'. Just in case you forgot, Pathan cracked a breathtaking 22-ball 72 that took KKR to the second spot in the points table.
"That win took us to second in the table, which was really important for two reasons," Pathan said. "First because we could play our qualifier at home, and second was that it meant we were straight into the final after the win. So I feel my knock that night was the turning point for KKR. It was such a satisfying moment for me. I thought I was playing well even before that, but to play that kind of an innings in such an important match made me really happy."
KKR's season was almost like a movie with a badly-written first half, but one that gathered steam as the climax neared. Who would've imagined KKR going all the way after winning only two of their first seven games? The players, according to Pathan.
"Personally, I was confident. We lost some close matches, and just needed things to fall in place. Gambhir never allowed any negativity or doubt to creep into our minds even at the point. We always had that self-belief that we could turn things around and go all the way," Pathan said.
Turn it around they did, and how! Gambhir and his boys then went on a roll, winning seven matches on the trot before the qualifiers. And with that kind of momentum, it was no surprise that they won the remaining two crunch matches.
Pathan had special praise for his skipper. "Gambhir is the best captain, I feel," he said. "Even when he was not scoring runs, he didn't let it affect the team. That was the best part. He ensured our morale didn't go down even as he was struggling for some form. He backed every player, and used to talk to each and every one of us individually on our strengths and weaknesses."
Pathan compared Gambhir to Shane Warne, a captain he blossomed under in the first three seasons of the IPL with Rajasthan Royals. Gambhir, Pathan felt, was much like the maverick Australian in terms of leadership skills.
"I see a lot of similarities between Gambhir and Warne. Warne was also such a terrific captain who took the extra effort to know and interact with every player. He would act like he knew us since ages. I played three years under him and I wish I could play more. But I have watched Gambhir very closely too and I think he is like Warne in many ways as a skipper," Pathan said.
The 31-year-old is the only player to have three IPL trophies to his kitty: two with KKR (2012 and 2014) and one with RR (2008). And he believes both franchisees have a lot in common.
"I think both RR and KKR focus a lot on their Indian players, which is the key. The KKR owners backed me even when I wasn't doing so well. So that is the hallmark of a champion team," Pathan said.
IPL done and dusted, Pathan hopes his performances over the past year or so gets him back into national reckoning. A cursory look at his numbers show that Pathan finished IPL-7 with 268 runs in 15 matches, the Syed Mushtaq Ali Trophy with 135 runs in four matches, the Vijay Hazare Trophy with 248 runs in five matches at an average of 62, and the Ranji Trophy with 373 runs in seven matches at an average of 33.90. Enough to merit a comeback?
"I hope so," Pathan said. "I've had a good IPL. My domestic season with Baroda has also been good across all formats. I'm confident to making it back to the Indian team and am working very hard towards it. I'll continue to do that, but the rest is up to the selectors."