Several turned up with messages expressing solidarity with the 23-year-Delhi braveheart who died of complications arising out of injuries sustained while fighting off her rapists last month.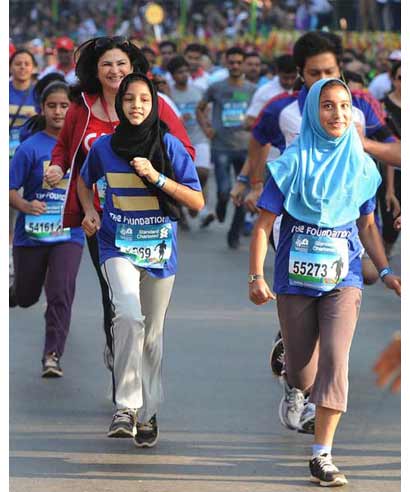 "High time society changes its male-chauvinist attitude. And it must start from our homes. Let's not give preference to boys over girls...'' said marathoner Nitin Dhumal, an employee of the city's municipal corporation. Dhumal, who has participated in all Mumbai marathons over the last eight years, was among the many participants who waved placards highlighting zero-tolerance of crimes against women.
On Sunday, several had turned up with messages that expressed solidarity with the 23-year-Delhi woman who was gang-raped last month. Outside Chhattrapati Shivaji Terminus itself, the place could well have been mistaken for India Gate or Jantar Mantar – places in the national capital where a slew of protests was held last month. 'Delhi braveheart, we will not forget', 'Don't tell our women what to wear, teach our men not to stare' – these were among the several messages that the placard-waving crowd displayed.
Among the individual voices that supported the cause of women's safety were people from the corporate world. While staffers of Aditya Birla Financial Services wore 'Superman' tee-shirts to show support to the non-government organisation, 'Save the Children India' companies like Mahindra ran for the cause of 'Nanhikali', a campaign that supports the girl child. Employees of Taj Group raised a voice seeking justice for the 23 year old woman from Delhi who was brutally gang-raped, last month.
"People often take women for granted and that attitude needs to stop. We need stern, swift action in cases of crimes against women,'' said a staffer of Taj Group.