In the past year, he ensured he worked out for a few hours every day.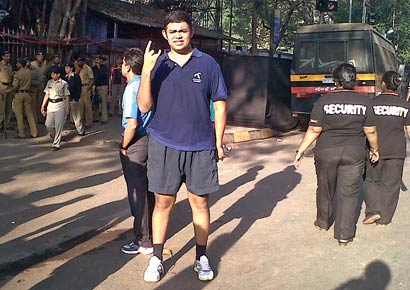 Last year, when Nihal Gopinathan weighing 140kg got serious about his health, he began to think about the Mumbai Marathon as part of his weight-loss programme. On Sunday, the 27-year-old copywriter from Andheri stood at 99 kg, in far better shape to take a crack at the half-marathon.
"I lost 41kg in a year," Gopinathan told DNA after completing 21km. In the past year, he ensured he worked out for a few hours every day. "But I still cannot believe that I completed it. I was doubtful and thought it would be better to go for the dream run (6km). But my coach was sure that I will be able to make it. Guess he believed in me and I did it today. I am exhausted but exhilarated!" he said.
Gopinathan was among the many first-timers who ran the marathon on a nippy Sunday morning to achieve personal goals set a year ago when they started training.
Hiren Doshi, 34, who owns an IT company, was one such person. "I have a business and was going through a mid-life crisis of sorts. So I decided to run for a cause and do some good. I donated Rs15,000 for underprivileged kids and also ran to raise awareness. I almost quit but something kept me going," Doshi said after completing his run.
"The half marathon keeps making us challenge our limitations. You want to give up but you keep pushing yourself. When you finish it you have a sense of achievement. I hope I can go for 42km the next time," an exhilarated Tanaya Shah, 21, a law student, told DNA.
For Pervin Batliwala, a 58-year-old who is with Hindustan Unilever, the "aim was to complete the full marathon within five hours. I clocked 4 hours and 48 minutes and I am so excited. All the training, hard work and pain was worth it."
To ensure that the race was exciting, Pervin ran with 25 colleagues at the full marathon. "It was a tough one but a superb one. I improved my tally by two minutes. I thank my friends to be along as it added to the encouragement," said 41-year-old Parul Sheth, an architect and one of Pervin's friends.
Parul and Pervin were not the only ones to make sure that they ran in groups. Some came from outside the city too. They came with their families in tow to support them. Dr CK Premkumar's family came from Kerala.