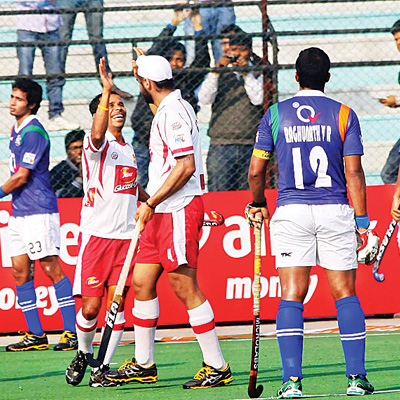 Mumbai Magicians ended their Hockey India League campaign on a high notching their second win of the tournament defeating Uttar Pradesh Wizards 3-2 at the Dhyan Chand Hockey Stadium on Tuesday.
It was the Magicians' second win of the tournament having beaten debutants Kalinga Lancers 3-2 in their previous match.
Wizards took the lead through Nithin Thimmaiah in the 22nd minute. The goal possibly pumped up the Magicians, who replied in style scoring three goals. Gurjinder Singh put the sides level by slotting home a penalty corner in the 31st minute before Prabhjot Singh (56th minute) and captain Glenn Turner added their name to the scoresheet to give the Mumbai side a comfortable two goal lead.
The Wizards, however, reduced the margin of defeat a minute later through skipper V Raghunath.
The win ensured Mumbai came away with the match with five points, finishing fifth in the standings with 18 points from 10 games while the Wizards ended their campaign with 28 points from 10 games. The UP side now travel to Ranchi for their semifinal clash on Saturday.
In the last league match of the tournament, hodlers Ranchi Rhinos face the Punjab Warriors at Ranchi on Wednesday