Rohit & Co. will look to extend winning streak at home against CSK today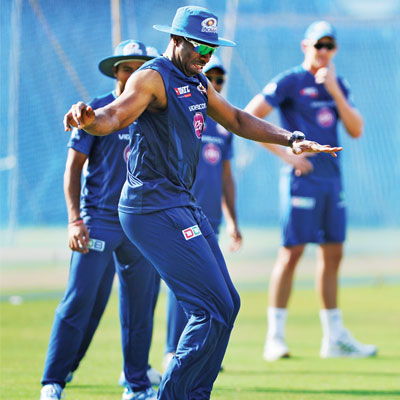 One would have lost count of the number of times the word 'calm' was used at the Wankhede on Friday ahead of Mumbai Indians' big match against the Chennai Super Kings.
While MI skipper Rohit Sharma is banking on playing at their 'Fortress Wankhede' to ensure they stay 'calm' against the two-time winners, CSK need not look any further than captain MS Dhoni. For, he has that trait in abundance.
Dhoni was calmness personified during CSK's training session on Friday, merely indulging in some gentle off-spinners at first, and then butchering the ball with the bat like only he can. You wouldn't know his men had suffered a mammoth 44-run defeat at the hands of Kings XI Punjab in their last match.
What Dhoni is to CSK, the Wankhede is to MI. Rohit Sharma & Co have been on an unstoppable run at their home turf, winning 10 consecutive matches dating back to last season.
"We know the brand of cricket we need to play here. There is a sense of calmness when we bowl and bat here," Sharma said.
Indeed. MI look a completely different team once they enter the Wankhede. They brushed aside Punjab and Bangalore with aplomb. Their batting unit has started to click with the skipper himself along with the big-hitting Kieron Pollard providing the much-needed stability and aggression, respectively. The bowling has never been a problem, and it is highly unlikely they will tinker with the attack, even though Praveen Kumar has been added to the squad.
One thing, though. Mumbai will like to forget the ugly altercation between Pollard and Royal Challengers Bangalore's Mitchell Starc the last time Mumbai played here. Both Pollard and Starc came under severe criticism but were let off with a fine, and Sharma said he spoke to the West Indian about not repeating it.
"As a captain, it was my duty to tell him what sort of behaviour he should have on the field. I've had a word with him, and he's OK with that. So, hopefully he will not repeat such mistakes," he said.
Both that, and probably the result of the match, will come down to which team does better at staying 'calm'.