After five straight losses, Rohit Sharma-led team kickstart their India leg of tourney against table-toppers KXIP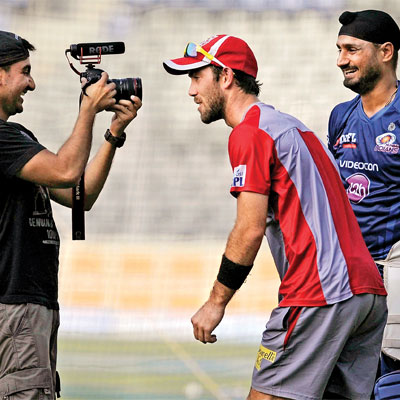 The buzz around Mumbai Indians isn't the same. Maybe it has to do with five back-to-back defeats, they suffered in United Arab Emirates.
The Wankhede did not bear a deserted look though. The usual flurry of activity the precedes an extravagant game was all there. However, all cameras and eyes were trained on the team in form — Kings XI Punjab— following their extra-ordinary run in the Indian Premier League 7 and their player the Big Show, Glenn Maxwell, on the eve of the game.
Rohit Sharma-led Mumbai Indians will be hoping for a change in fortunes as the India leg of the tournament kicks off for them. Having gone through a rough phase, despite being the defending champions, they will not be taking the field as favourites on Saturday.
Mumbai Indians have not been able to identify a winning combination even as they reach the half-way mark of the tournament.
Their biggest worry has been their batting. Somehow, the much-hyped line-up has not been able to fire collectively. Such has been the desperation that they dropped an out-of-form Michael Hussey with little luck in the match against Kolkata Knight Riders.
Not once have they been able to reach the 150-run mark in the season so far while only two batsmen – Rohit Sharma (50 vs CSK) and Kieron Pollard (78 vs SRH) — have managed to score half-centuries.
However, the good news is that Pollard's poor run, which was one of the reasons behind MI's failures, appears to have ended.
Despite the disastrous start, Sharma is confident. "We all know it has been a disappointing start. Certain things we did not do right. We took each game at a time and not looked too far ahead. We committed a lot of mistakes right from the first game against Kolkata (Knight Riders) till the last game against Sunrisers (Hyderabad) and kept repeating them," said Sharma on the eve.
"That can happen, it's a new team. It's a different challenge now. We have come to Bombay (Mumbai), we know the conditions here. It's a fortress. Last year we won eight out of eight. We will try and keep that record intact," he added.
Punjab, on the other hand, has a balanced line-up. Their batting has been revolving around Maxwell and David Miller. Their top order, including Virender Sehwag, needs to show its mettle while the bowling attack comprising Mitchell Johnson, Sandeep Sharma, L Balaji and left-arm spinner Akshar Patel, have done a decent job.
"Could not have wished for anything better. Great start there (UAE). It is great to have the start we have, but it is almost like starting from scratch again (now) that we are back in India," Bailey said.
He added the conditions will be different in India and maintaining the momentum will be difficult.