With the West Indian batsman coming good as an opener, Rohit Sharma-led team will hope to overcome Daredevils in do-or-die match at home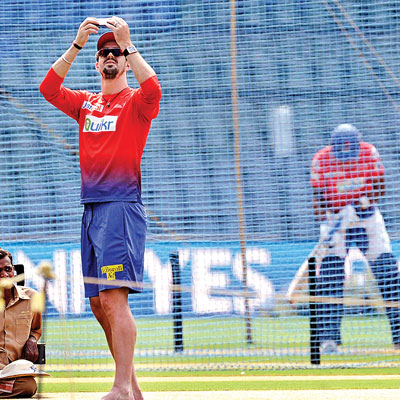 With one century, two half-centuries and a 38 in his five innings, one wonders why Lendl Simmons was not part of the Mumbai Indians' XI in the league's first half. At a time when they were struggling to find a strong opening partnership, Simmons could have provided an ideal solution. They now seem to have solved part of the problem with Simmons going great guns right from his first appearance against a formidable Chennai Super Kings.
Though his 38 in that match came in a losing cause, CSK even breaching Mumbai Indians' fortress at the Wankhede, where they went undefeated for 10 straight matches dating back to last season, the defending champions have found the right opener to go strong in the Powerplay.
Having been on the road for four straight matches, Mumbai Indians have managed to keep themselves afloat by winning three of them. They face a desperate situation where they need to win both their remaining two matches at home, first up against bottom-placed Delhi Daredevils here on Friday afternoon, and hope for other results
to go in their favour if they are to make it to the playoffs. Even one defeat and Mumbai can kiss goodbye to their hopes of retaining the title.
Simmons, the 29-year-old Trinidad opener, could not have asked for a better initiation into IPL, which he likened to "as huge as the World Cup with the entire world tuning in to it".
As Simmons returns to the ground where he made his IPL debut, he will carry a lot of responsibility on his shoulders. But it is a ground that he likes to bat on, that Mumbai Indians like to put on a show for their fans. Having only played on the practice pitches before making his debut, Simmons was pleased to be playing in the middle.
"Mumbai pitch is very good to bat on. Opening the batting for Mumbai is a good feeling. And the wickets there have been getting better and better. I have been playing on practice pitches and I always wanted to play in the middle. The wicket is nice and true as we are accustomed to," Simmons said in Mohali on Wednesday night after scoring this season's first three-figure mark – 100 not out – and guiding his team to a convincing seven-wicket win over Kings XI Punjab.
Simmons seems to have found an ideal partner in the immensely experienced Michael Hussey. The Australian left-hander, who had a miserable start with Mumbai and had to be dropped from the XI regained his touch with a 56 against Rajasthan Royals two games ago. He was even happy to give Simmons the strike and watch him take charge from the non-striker's end. Rotation of the strike was the key with Simmons going after the bowling in the Powerplay.
Simmons has come within striking distance of Mumbai's two other key batsmen, captain Rohit Sharma and Ambati Rayudu. His 280 runs in five innings are less than 50 shy of Sharma's 324 and Rayudu's 327, though the two Indians have batted in seven and six additional innings, respectively.
Mumbai Indians' bowling need not be a worry despite the absence of Lasith Malinga due to national duty in England. They have unleashed a talented leg-spinner Shreyas Gopal, who has been honing his skills under team mentor Anil Kumble the last month and a half and which has reflected on the two matches, both resulting in MI wins.
Delhi Daredevils should be a cakewalk for Mumbai Indians on Friday. One would imagine so, considering that the Kevin Pietersen-led side are at the bottom with only two wins from 12 matches and have gone winless in their last seven games.
Their South African all-rounder JP Duminy, who scored 357 runs at 51.00, said on Thursday: "It (poor results) can happen to anyone. I can't blame any one person. Every individual will take responsibility for the team's performance. We have been below par. Ours is a new franchise in terms of new squad of players, fresh faces and a lot of young guys. We know we have to come back strong next season. We have got two more games got to give them our best shot."
But with nothing to lose, Delhi dare to play party poopers and hope to salvage some pride. As Simmons said, "We have to play our natural game and win the next two games and leave it to god's fate. We cannot control things what other teams do. We can control what we can do and that is to win our next two games."