Sharma (59*) plays captain's knock as Mumbai defeat Bangalore by 19 runs in game marred by nasty spat between Pollard and Starc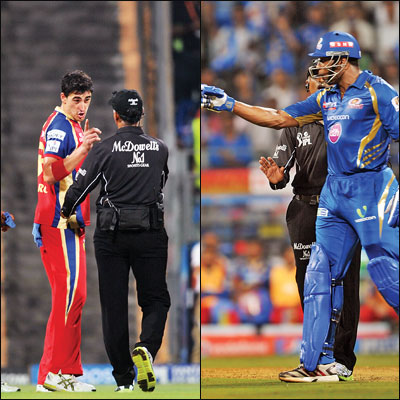 The packed Wankhede Stadium saw everything that one expects from a T20 match. Sixes travelled so far that however much you pushed the boundary, it would have still been cleared. Such were the big hits produced by Rohit Sharma first and, later, Chris Gayle.
There was a good measure of short balls directed at the batsmen, more so by the Royal Challengers Bangalore bowlers that it led to an ugly spat between Bangalore's Mitchell Starc and Mumbai's Kieron Pollard, making the proceedings all the more livelier.
The match also saw the most number of extras in this year's IPL — 25 alone in the Mumbai innings — and also the most expensive over of IPL 2014 — 28 conceded by the hosts' left-arm medium-pacer Pawan Suyal, who replaced Zaheer Khan after the latter was ruled out of the rest of the tournament.
It was also the tale of two captains, Virat Kohli of the visiting team unable to emulate his opposite number, Sharma. As a result, RCB, chasing a challenging target of 188, fell short by 19 runs. Sharma's unbeaten 59 clearly outshone Kohli's fighting 35. RCB were very much in the race, but the hopes took a beating when Kohli departed in the 14th over with 69 needed. RCB, who scored a cool 98 in the first 10, could have gone on and won the match had Parthiv Patel, Chris Gayle and AB de Villiers not played horizontal shots while exposing their stumps.
Short balls, well directed at the Mumbai batsmen, were the feature of Bangalore's bowling effort after Kohli won the toss and chose to bat second, something they had done successfully in three of their six previous outings.
Varun Aaron used the short-pitched ball to good effect. But things turned sour after one such delivery that left-armer Starc sent down in the 17th over to Pollard, who was involved in a solid stand with Sharma.
After bowling a bouncer that the Trinidadian swung at and missed, Starc said something unpleasant to Pollard, who signalled the bowler back to the top of his mark. As Pollard withdrew when Starc was about to deliver, the Australian continued with his follow-through and hurled the ball at Pollard, who threw his bat in disgust.
What ensued was not a good advertisement for cricket as both players came close to exchanging blows. It needed Pollard's West Indian mate, Gayle, to calm things down but not before both players made known their feelings to the umpires. It was all in the heat of the moment, though.
On either side of this drama, Sharma played a captain's knock, using all his energy under tiring conditions to score a classic unbeaten 59. Some of his shots were breathtaking. He and Pollard were responsible for Mumbai Indians posting a healthy total during their 97-run partnership for the fifth wicket that came off only 60 deliveries.
Mumbai Indians lost their first four wickets owing to their top-order's over-enthusiasm to score at a faster pace. CM Gautam wasted a good start while Corey Anderson perished going for a second successive six and was given a mouthful by the successful bowler, Yuzvendra Chahal. Chahal's over-exuberance was nothing compared to what Pollard and Starc did, both sure to be pulled up by the match referee.