City-based teenagers Arosh Chaudhari and Upamanyu Dutta will represent India at Asian Games in Incheon this year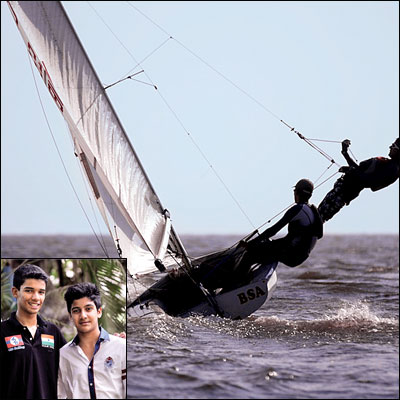 At an age when the only sailor one can relate to is Sinbad, teenagers Arosh Chaudhari and Upamanyu Dutta are literally sailing into the history books.
Life has been no less than a fairytale for these Mumbaikars, who together beat five other teams to win the national selection trials in Vishakapatnam last week. With it, they earned the right to represent the country in the 420 Class (men) for the 2014 Asian Games in Incheon, South Korea, in September.
"It hasn't sunk in yet," says the 17-year-old Dutta who goes to Bombay International School at Marine Drive. "It took us a long time to realise what we've achieved and what's waiting for us out there in September," adds the lad who has participated in races across Asia and Europe.
Chaudhari, 15, is no less thrilled. "Donning the Indian crest on the blazer, now that's something I want. It's going to be one hell of an experience but it's crucial not to let your emotions get the better of you. There is a task at hand," says Chaudhari, who attends Podar International School, Santacruz.
Both Chaudhari and Dutta are 'second generation' sailors. No wonder, then, they started early. And by the age of nine, they became 'pros'. "The human mind is like a sponge. I absorbed everything my father, Sanjeev (a national-level sailor), taught me. It took me some time to fall in sport with the sport, but the moment I realised that not many kids were doing this, I embraced the sport. I wanted to be different," Chaudhari says. Ditto with Dutta, whose was trained by his father Sanjeev, also a national-level sailor.
With the Asiad less than five months away, the duo has its work cut out. For starters, they plan to to train as much as possible at the Bombay Yacht Club. Come June and they will travel to Germany for the Kiel Week or Kiel Regatta, which is the largest sailing event in the world. This will be followed by the Under-19 Youth World Championships in Tavera, Portugal, in July. They will head back to Germany in the last week of July to participate in the Open World Sailing Championships.
"It will be cold in Germany. On the contrary, it will be warmer in Portugal. It's not an easy sport. The challenges we face are immense. The waves, tides, winds, clouds change with every minute, so we have got to remain focused. Having the nationals in Vishakapatnam helped as the conditions were very similar to the ones we'll be facing in Incheon." says Dutta.
The duo teamed up less than two months ago. When asked about the bond they share, Chaudhari says he couldn't have asked for a better partner. "I trust him blindly. He fulfills the role of the helm (term for the person who steers the boat, giving it direction) to perfection. My job is to give the boat balance. With the amount of time we've spent since then, everything seems like clockwork. My previous partner was a bit on the heavy side, it's important that the total weight of the pair doesn't exceed a certain limit (120 kg). I weigh 61 kg. Arosh weighs 58 kg. And that's what I wanted.
So are they hoping to win a medal in Incheon? "In the races gone by, we gave our contenders a tough fight. I see no reason why we can't bring home a medal for the country," Dutta says. As far as Chaudhari is concerned, a win at the youth championships in Portugal would be a nice birthday gift. He will turn 16 a day before the final. "Now that's some good motivation to go out there and win," he says.
Joining them in the Under-19 sailing contingent at Incheon will be the Mumbai duo of Diya Correa (15) and Zara Arsiwala, of Cathedral & John Connon High School and BD Somani School, respectively. They won the trials in the 420 Class (women) at Vishakapatnam.