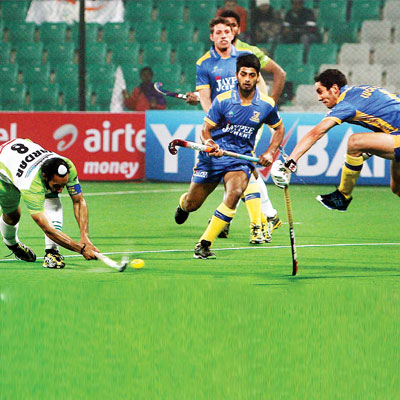 The International Hockey Federation (FIH) has proposed to its executive body to consider holding 2018 World Cup matches in India at three different venues. If accepted, it would be the first such instance when World Cup league matches would be held at two different centres and the knockout semifinals and final would be held at a third venue.
Disclosing the plans to dna, FIH president Leandro Negre said a proposal in this regard has already been finalised and would be placed in the next executive committee meeting.
"There is so much of craze for hockey in India and that's the reason FIH feels that it would be in everyone's interest to hold the World Cup at different centres," said Negre. He is in the Capital to watch the ongoing Hockey India League.
During the 1975 World Cup in Malaysia, a couple of matches were played outside the original venue — Kuala Lumpur.
dna has learnt that Mohali, Bhubaneswar and Delhi are the three centres that have been listed by FIH.
Hockey India secretary general Narinder Batra had announced during last month's Junior World Cup that he wants future hockey matches to be held in the smaller cities because getting clearances in Delhi was becoming a headache.
"There cannot be any ticket-selling counter within the one kilometre circle of the Delhi High Court, so that makes it difficult for HI to set up counters outside this (Dhyan Chand National Stadium) venue," Negre said. "India has always been a good host, but our only concern is lack of spectators. We were not satisfied with this in the Junior Hockey World Cup and we have to find a solution."