South African pacer works on his accuracy by marking out the short of length spot on the pitch with a bicycle tyre.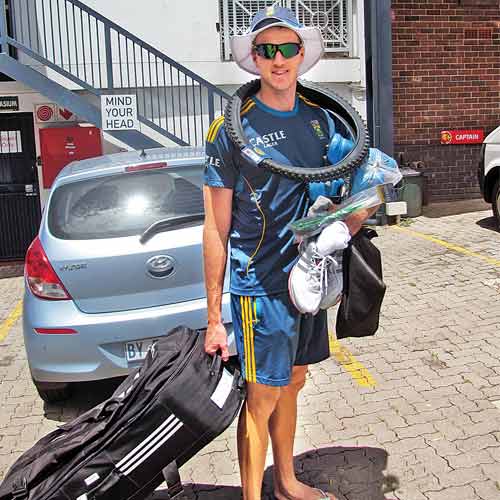 "It's a secret," Morne Morkel said with a wink. All we asked him was about that bicycle tyre around his neck (see pic). Would he use it like a gymnast would her ring? Keep guessing.
Minutes after the press conference on Monday, the South African pacer revealed his trick. Here's what he did. Walking purposefully towards the practice wicket at the Wanderers, he placed the tyre straight up short of a length on the pitch, walked up to his bowling mark, ran in, bowled through it and hit the top of middle and off stump. He did this about a dozen times bowling from over the wicket.
Accuracy is not the word you usually associate Morkel with. Tall and well-built, the 29-year-old's biggest weapons are his searing pace and scary bounce.
"At the Wanderers, I feel that I bowl for one dismissal and that is caught behind because there is so much bounce," Morkel said.
When the first Test begins on Wednesday, Morkel will be in business all along. It's a different matter, though, that he generally bowls after Dale Steyn and Vernon Philander are done with the new ball.
"I am not really a bowler who is going to go full and try to swing the ball. I am not a swing bowler.
So my role here is going to be different from my role at another venue. If I manage to get a couple of wickets, that's great. But the most important thing for me is to stick to my strengths and my gameplans because there is so much bounce. That is something I will be focussing on," he added.
With 177 wickets from 51 Tests and a decent record against India (30 scalps in nine Tests), Morkel will relentlessly trouble MS Dhoni & Co. You saw what he did in the just-concluded ODI series. No, we aren't talking about his three wickets. It's about the scars he left in the batsmen's minds. Virat Kohli, one of India's best, was left with a sore rib-cage after the first ODI, also played at the Wanderers.
"They are quality players," Morkel said of the visiting line-up. "Having done our homework, we can clearly see that they are attacking batsmen. And at the 'Bull Ring', with those sort of things, it can be a high-scoring game and we need to be on the money. We know the conditions well and that has shown in the past couple of years. So we want to get back into Test-match mode as soon as possible and put them under pressure."
India go into the first Test without genuine match practice –– the two-day practice game in Benoni was washed out –– and Morkel believes that's a tricky position to be in. "Definitely, it goes in our favour. I think it could have been good practice for them. So definitely, that's some sort of bonus for us," he said.
Talking about the bowling unit's ploy, Morkel said, "It doesn't matter who we play against. (Hitting) Top of the off stump and dishing out the odd bouncer is still the winning combination. That's what we need to concentrate on. That's the basic and we need to keep it simple. If we stick to that and create some pressure, then that will be our recipe for taking 20 wickets."
The two-match Test series will be India's first without Sachin Tendulkar and Morkel is sure the visitors will miss the maestro. "Sachin was a guy who could bat time and put you under pressure through time. Virat (Kohli) is obviously going to slot into that role and he's got some big boots to fill in. Don't take me wrong, he's a quality player and he can do it very, very well but it's going to be a testing time for him at No. 4."
Morkel also backed Zaheer khan to come good. "It does take time to get used to the conditions here, but Zaheer is very experienced and I am very sure he will lead the attack very, very well. He's done well in the past against South Africa in South Africa. So I am sure they will have their game plans sorted out."