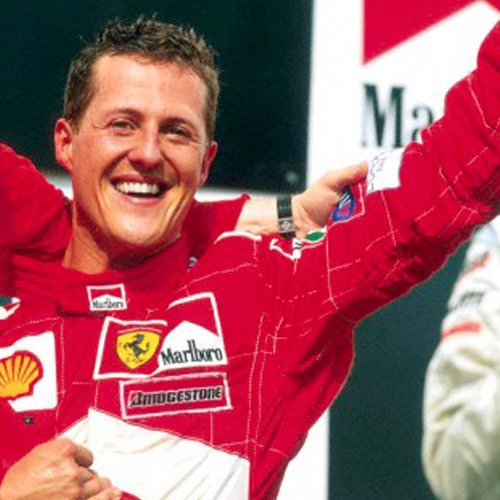 Michael Schumacher, the former Formula One champion, is gradually being "woken up" from a medically induced coma by doctors a month after his near-fatal skiing accident in the French Alps, according to L'Equipe, the French sports daily.
Schumacher's spokeswoman asked the public not to pay attention to "speculation" but did not deny the report. The seven-time world champion was placed in a medically induced coma after he struck a rock while skiing off-piste in the resort of Meribel four weeks ago.
L'Equipe reported that Schumacher had "reacted positively" to the process begun this week at the CHU hospital in the south-west city of Grenoble, where he has been since his fall on Dec 29. However, Sabine Kehm, Schumacher's manager, urged fans to ignore anything other than official comments on his health. "I am stressing that any statement on Michael's health not coming from the doctors treating him, or from his management, must be considered as speculation," she said. "I repeat, we will not comment on any speculation."
She told Le Dauphine Libere, a local newspaper: "Michael's condition is still considered as stable. I also repeat that Michael's family are very happy and confident with the work of the team of doctors treating Michael, and they trust them completely."
McLaren yesterday confirmed the appointment of Eric Boullier in the newly created role of racing director before driver Jenson Button went out and topped the time sheets in Jerez.
Despite failing to get in a single lap on the first day of testing on Tuesday, Button managed 43 laps and was upbeat about his new car, as well as the signing of Boullier. "It's good to have fresh ideas," Button said of the Frenchman. "The team will never be changed by one individual, but I think he does add something and I think when the management structure is complete we will be in good shape."
Boullier resigned his position at Lotus last Friday and said it was "an honour" and a "privilege" to be joining McLaren. As part of a major management restructure at McLaren, Boullier will run the team at race weekends and report to the new position of chief executive officer of McLaren Racing.
The team have yet to announce who will fill the role and yesterday's announcement will fuel the rumours that Ross Brawn may be brought in by Ron Dennis, who has regained control of the Woking-based outfit after an internal coup. The role of team principal, currently held by Martin Whitmarsh, will effectively be made redundant as part of the changes.