The new season is set to see new rules in place, there will also be new drivers in the new look cars. Here are the cars and their new looks.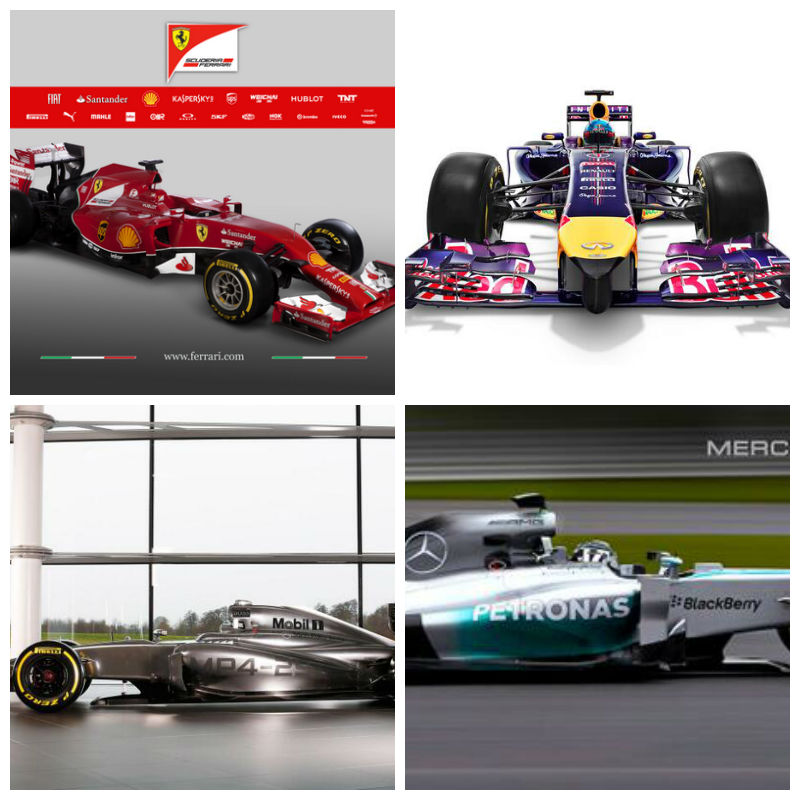 As the start of the 2014 season nears, the test in Jerez tells every F1 fan one thing and that's that the new season cars are ready to be tested. The last week has been frantic especially on the F1 social media spaces as many cars were unveiled online.
Force India was one of the first to launch their cars on Twitter.
The other teams also did their launches shortly after that. In case you weren't able to see the cars, here are the 2014 F1 cars which look radically different than they did last year, thanks to the new rules.
The new rules are not just double points in the last race but also, a change in engines. The cars will not use the V8 engines that they did earlier but have V6 engines as part of the fuel saving exercise of the FIA.
This now means, that Energy Recovery Systems (ERS) will become very important to performance and turbocharging will be allowed for the first time since 1988.
Another change is the use of heat and kinetic energy in the Kinetic Energy Recovery Systems (KERS) with more powerful units being used.
This test at Jerez is very important as the new cars are made as per the rules and the designers insight into what will or will not work. Considering that, private testing has been banned and so the on track test here is very vital.
World champions Red Bull who will see Sebastian Vettel and Daniel Ricciardo drive the new challenger as they seek double titles No5 in 2015.
Here's their car:
#RB10 A closer look from the front. #UnboltTheBull pic.twitter.com/zdZDnY89nF

— Red Bull Racing (@redbullracing) January 28, 2014
Ferrari look like the strongest F1 driver's line up with Kimi Raikkonen returning to join Fernando Alonso at the team, a combine that has fans excited. The car was named by fans F14-T, here's the car:
Montezemolo: a renewed, committed team - now we need to focus. #F14T #ForzaFerrari http://t.co/a5qyyU2qF5 pic.twitter.com/lNWrQgKCPW

— Scuderia Ferrari (@InsideFerrari) January 25, 2014
At Mercedes, Lewis Hamilton and Nico Rosberg will be the old team combine and the duo will look to make their team work with the new car. Here's a look at the car:
The F1 W05 revealed #W05sup http://t.co/sFtbVcKfnw pic.twitter.com/1sX0MLWSbn

— MERCEDES AMG F1 (@MercedesAMGF1) January 28, 2014
Pastor Maldonado and Romain Grosjean, at Lotus will look to prove a point with this new car as the team will look to show that they can work well without Raikkonen. Here's a look at the car:
We just can't help it, here is another view of our new challenger #E22 #LotusF1Team pic.twitter.com/Y3L8Hdfx8m

— Lotus F1 Team (@Lotus_F1Team) January 24, 2014
Jenson Button will be joined by rookie Kevin Magnussen, at McLaren and have an all silver car. Here's a look at the car:
1.6 litres, 6 cylinders and a tidy 15,000 rpm. More #McLarenMP429 tech specifications here: http://t.co/QB8lkTgqYB pic.twitter.com/ATzg7Uyefs

— McLaren (@McLarenF1) January 24, 2014
Nico Hulkenberg and Sergio Perez are the new faces at Force India and the new car is black with the team making comparisons to a panther on Twitter. Here's their car:
Exclusive for our #BestFans, the first image of our VJM07! Say hello to our 2014 contender #FeelTheForce #VJM07 pic.twitter.com/GlF38jHvTb

— Sahara Force India (@clubforce) January 22, 2014
Sauber will have Adrian Sutil and Esteban Gutierrez driving this car.
Like the Sauber #C33-Ferrari? Go to http://t.co/eluuMIrqYY now to see what Monisha, @EstebanGtz and @SutilAdrian say! pic.twitter.com/4DJUkhUot5

— Sauber F1 Team (@OfficialSF1Team) January 26, 2014
Felipe Massa and Valtteri Bottas will drive the all blue Williams.
Another pic of the #FW36, this time from a side angle... pic.twitter.com/m1PL0COB4P

— Williams F1 Team (@WilliamsF1Team) January 23, 2014
The cars look good and new, but how will they perform and which team has succeeded in cracking the rule book will be questions that will be answered only after the first few races. The F1 season of 2014 will start on March 16 in Australia.